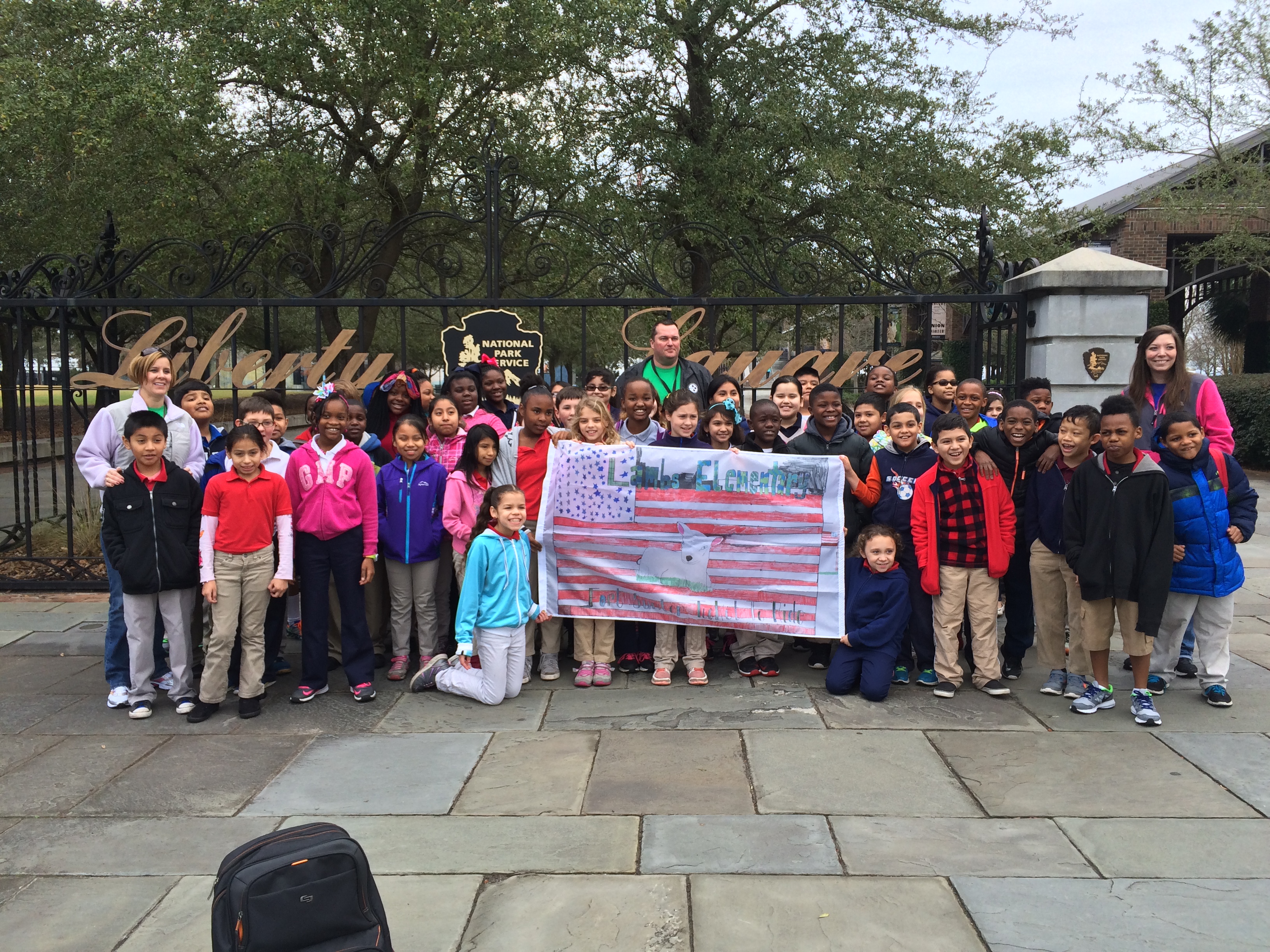 News Release Date:
June 15, 2016
National Park sites in the Charleston area hosted 1,153 fourth grade students from Charleston County Title 1 schools through a National Park Foundation grand, Ticket to Ride, during the 2015-16 school year. Through this grant and financial support from Fort Sumter and Fort Moultrie Historical Trust, and Fort Sumter Tours, transportation to the parks and lunch was provided at no cost to the schools. Students, many who have never been to the parks before, visited Fort Sumter National Monument, Fort Moultrie or Charles Pinckney National Historic Site in a fun and interactive way. 
The experience for the fourth graders started in the classroom with a visit from National Park rangers to introduce the historical significance of the sites and what to expect at the parks. Students were given an assignment to design a flag to represent their school which would later be flown over the park they visited. At the parks, students participated in activities ranging from re-enacting Robert Smalls' escape to freedom, to "signing" the US Constitution, and watching a 19th Century black powder presentation. Rangers returned to the classroom after the visit to the parks to share more information about the National Park Service as the agency celebrates its centennial year. Each fourth grader received an Every Kid in a Park pass, which waives entrance fees for the student and up to three adults into National Park sites and other federal land management areas.   
Park Ranger and grant coordinator, Dennis Birr said, "Students were introduced to their National Parks with hands-on activities in some of the nation's most historically significant sites. Many of them had never been to the parks before. We provided an opportunity for lifetime memories to be made and opened the door to create the next generation of park stewards. We hope we can continue bringing students to the parks during the next school year." 
This year, 2016, marks the Centennial of the National Park Service's establishment. To celebrate, the National Park Service is working on new ways to help connect visitors to parks and help them find their parks. Come find yours today!