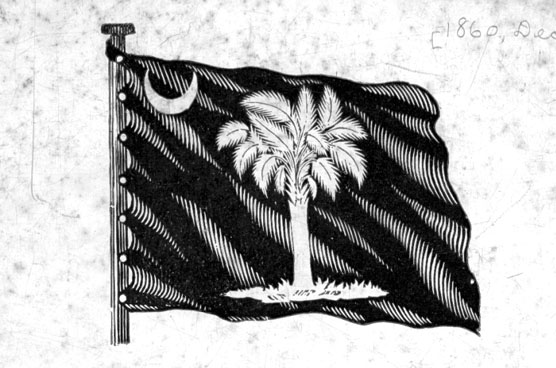 News Release Date:
January 13, 2011
Contact: Rick Hatcher, (843) 883-3123 x 22
Friday, January 28, 2011, will mark the 150th anniversary of the adoption of the state flag of South Carolina. A free program will be held in the Fort Moultrie Visitor Center at 2:30 p.m. to mark this historic event. On May 27, 2010, South Carolina Senate Bill 1450, co-sponsored by Senator George E. "Chip" Campsen III and Senator Daniel B. "Danny" Verdin III was passed by concurrent resolution, establishing January 28, 2011, as the "first annual South Carolina Flag Day." The program will include an address on the flag by Dr. Eric Emerson, Director of the South Carolina Department of Archives and History, and comments by Senators Campsen and Verdin. Entrance to the fort is free for the day.

On January 28, 1861, the South Carolina Legislature, meeting in Hibernian Hall in Charleston, passed legislation officially establishing the state flag. As the state had recently seceded from the Union, it was determined that a flag was needed to represent South Carolina's independence. The legislature looked to the flag used at Fort Moultrie in the June 28, 1776, battle of Sullivan's Island. At that time there was no United States flag, so the 2nd South Carolina Regiment's flag flew over the fort. The regimental colors consisted of a dark blue banner with a white crescent in the upper corner. Using that flag as inspiration the legislature added a Palmetto tree to the banner's center and the state flag was adopted. The January 29, 1861 issue of the Charleston Mercury newspaper stated:

"The Legislature last night again altered the design of the State flag. It now consists of a blue field, with a white palmetto tree in the middle, upright. The white crescent in the upper staff corner remains as before, the horns pointing upwards. This may be regarded as final."

The crescent was not turned diagonally as we see it today until 1910.

Fort Moultrie is administered as part of Fort Sumter National Monument, a unit of the National Park Service. Located at 1214 Middle Street, Sullivan's Island, SC the fort and visitor center are open daily from 9:00 a.m. to 5:00 p.m. except for New Year's, Thanksgiving and Christmas Days. An entrance fee of $3.00 per adult or $5.00 per family is charged to tour Fort Moultrie. For more information, call (843) 883-3123 x 20.