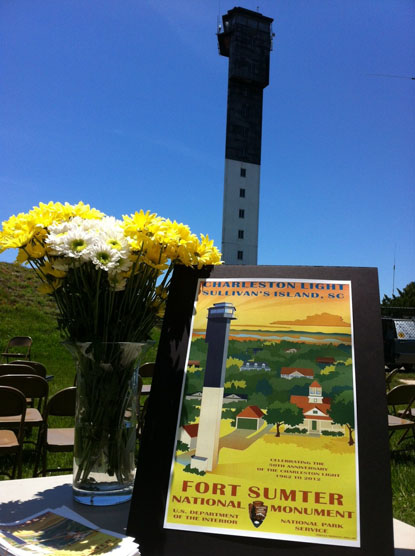 News Release Date:
July 25, 2012
Contact: Bill Martin, (843) 883-3123 x 11
Join Fort Sumter National Monument as we celebrate National Lighthouse Day at the Sullivan's Island Lighthouse on Tuesday, August 7, 2012. The special public event takes place from 10:00 a.m. to 2:00 p.m. on the grounds of the U.S. Coast Guard Historic District at 1815 I'On Avenue on Sullivan's Island.
The Historic District represents the evolution of events important in United States maritime history from 1895 to 1962. Commissioned 50 years ago on June 15, 1962 as the last major lighthouse to be built in the United States, the Sullivan's Island Lighthouse replaced the original Charleston harbor light (also known as the Morris Island Lighthouse) which was built in 1876. Its unique triangular shape, interior elevator and aluminum siding distinguish it from more traditional lighthouses.
It was on August 7, 1789 that Congress passed an Act for the establishment and support of lighthouses, beacons, buoys and public piers. In honor of the 200th anniversary of the establishment of the first federal lighthouse, Congress designated August 7, 1989 as National Lighthouse Day. This recognition has encouraged communities and citizens groups to dedicate themselves to the preservation of these historic structures. As part of the anniversary, lighthouses, where feasible, were open to the public.
"It is in the spirit of public access that park staff and volunteers invite the public to explore the grounds of the US Coast Guard Historic District," said Fort Sumter National Monument Superintendent Tim Stone.
The grounds, quarters cupola and boathouse will be open to the public from 10:00 a.m. to 2:00 p.m. on Tuesday, August 7th. Because of serious health and safety concerns the lighthouse interior will not be open. In addition to viewing exhibits in the historic life-saving station boathouse, visitors can pick up a free commemorative poster designed by Amelia Millar for the 50th anniversary of the lighthouse. Displays on water safety and activities for children are planned in conjunction with the US Coast Guard Auxiliary and Sullivan's Island Fire & Rescue. Representatives from the non-profit Save the Light organization will report on efforts to preserve the Morris Island Lighthouse. Refreshments will be served.
All activities are free and open to the public. For more information, call the park at (843) 883-3123.