Date:
February 29, 2016
Contact:
Bill Martin
, (843) 883-3123 x211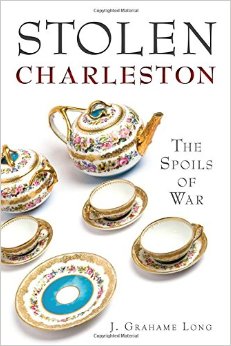 SULLIVAN'S ISLAND, SC –Charleston Museum Curator and author of
Stolen Charleston: The Spoils of War
J. Grahame Long will speak about his book at 1:00 PM on Saturday, March 26, 2016 at the Fort Moultrie Visitor Center. He will be available to sign copies of his book immediately following the program until 4:00 PM. In addition to the book signing, National Park Service rangers and volunteers will offer musket firing demonstrations and interpretive programs at 10:00 AM, 11:00 AM, 2:30 PM, and 3:30 PM inside Fort Moultrie. These firing demonstrations take place the fourth Saturday of each month.
In 1865, while Charleston Mayor Charles Macbeth was formally surrendering the city to the Union Army, his wife, Henrietta, was back home frantically burying family valuables beneath the rear steps of the main house. She was not the only one. As the South's defiant rebellion crumbled, fearful locals improvised desperate measures to preserve what – if anything – they had left in their possession. Some attempts, like that of Mrs. Macbeth, were successful. Others were not. 
During both the American Revolution and the Civil War, Charleston was not just a symbolic target but a fantastically wealthy one as well. Eventually, the Redcoats of 1780 and, to a greater extent, the Federals of 1865 found their way into town and, despite direct orders from their commanding generals to "leave the townsfolk alone," it seemed, no church, business, or private home was off limits to enemy marauders. An exact tally of Charleston's lost elegance remains difficult to quantify. Fortunately, even though most of Charleston's treasures are still lost, some pieces occasionally turn up centuries later and in the unlikeliest of places. The search continues even to this day.
About the Author: As chief curator for the Charleston Museum, Grahame Long maintains the numerous cultural and material collections within its vast holdings and further oversees its Archaeology, Textiles, Archives, and Natural Sciences departments. He is a regular columnist for the Charleston Mercury newspaper, has published numerous articles in both local and national periodicals, and served as a historical consultant for various media outlets and assorted government agencies. He has authored two books: Stolen Charleston: The Spoils of War (2014) and Dueling in Charleston: Violence Refined in the Holy City (2012), a Charleston Library Society Piccolo Spoleto Literary Festival selection.
Fort Moultrie is located at 1214 Middle Street, Sullivan's Island, South Carolina. The site is administered by the National Park Service as a unit of Fort Sumter National Monument. Fort Moultrie represents the entire history of static seacoast defense in the United States, from the American Revolution to the end of World War II. The site is open daily from 9:00-5:00 and includes a visitor center with museum exhibits and an orientation film. An entrance fee of $3 for adults and $1 for senior citizens is charged to tour the fort.
This year, 2016, marks the Centennial of the National Park Service's establishment. To celebrate, the National Park Service is working on new ways to help connect visitors to parks and help them find their parks. Come find yours today!
For more information on park news, events and programs you can follow us on
Facebook
. You can also share your park experience with others by posting on social media with the hashtag #FindYourPark.