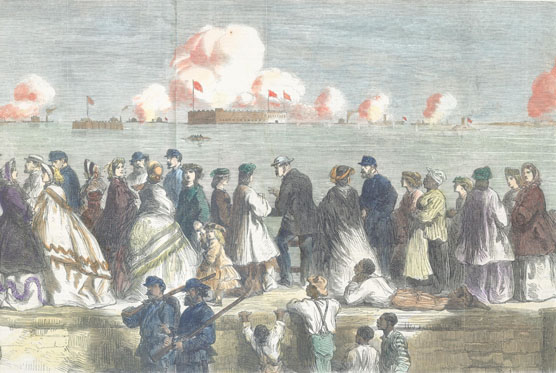 News Release Date:
April 3, 2013
Contact: Bill Martin, (843) 883-3123 x 11
Fort Sumter National Monument will present Living History programs on Saturday and Sunday, April 6-7 in observance of the 150th anniversary of the Ironclad Attack. Volunteers portraying members of the 1st South Carolina Artillery Regiment (Regulars) will provide interpretive programs for every tour boat to Fort Sumter on Saturday, April 6 and for the 9:30 a.m. and 10:45 a.m. boats on Sunday, April 7.
On April 7, 1863, nine ironclad U.S. Navy ships attacked the Confederate defenses at the entrance to Charleston Harbor. This was the first fleet attack in the history of the U.S. Navy by ironclad ships. During the battle the 32 large cannon on board the ships and the Confederates' 77 heavy guns mounted in fortifications on Morris Island, Sullivan's Island, and at Fort Sumter fired approximately 89-½ tons of artillery projectiles. After 2-½ hours of fierce combat the U.S Navy withdrew in defeat.
A free temporary exhibit on the Ironclad Attack is also on display in the Fort Moultrie Visitor Center. Located at 1214 Middle Street on Sullivan's Island, the visitor center is open daily from 9:00-5:00.
Fort Sumter National Monument is a unit of the National Park Service. The Fort Sumter Visitor Education Center at Liberty Square is located at 340 Concord Street, in Charleston, South Carolina. The park is open daily except for New Year's, Thanksgiving and Christmas Days. For more information, call (843) 883-3123.