Sullivan's Island Lighthouse Transfer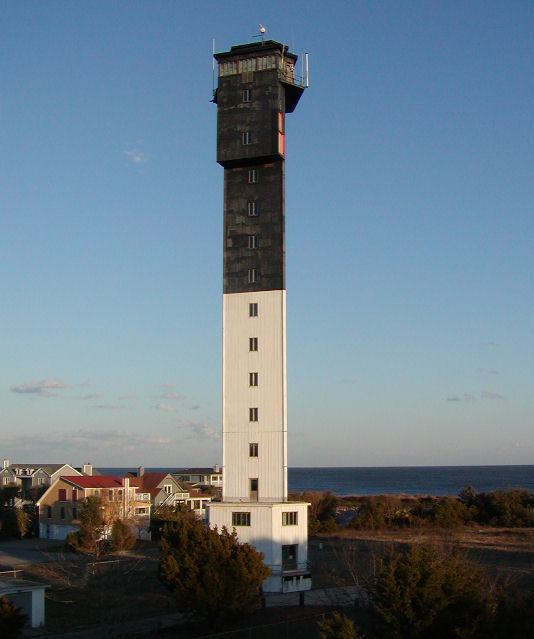 News Release Date:
October 23, 2008
Contact: Fort Moultrie Visitor Center, (843) 883-3123
(Sullivan's Island, SC) – Join the National Park Service as we celebrate the transfer of ownership of the Charleston Light on Sullivan's Island from the United States Coast Guard to Fort Sumter National Monument on Sunday afternoon, November 9, 2008. The event takes place at 2:30 pm on the grounds of the US Coast Guard Historic District at 1815 I'On Avenue on Sullivan's Island.
The Historic District represents the evolution of events important in United States maritime history from 1895 to 1962. Commissioned on June 15, 1962 as the last lighthouse to be built in the United States, the Sullivan's Island Lighthouse replaced the original Charleston harbor light (otherwise known as the Morris Island Lighthouse), which was built in 1876. Several unique features make this lighthouse stand out from others:
Instead of having the traditional circular shape, it is three-sided, a feature meant to make it more wind resistant. The result is that it can withstand gusts up to 125 mph as demonstrated by its ability to hold up against Hurricane Hugo in 1989.
It is the only lighthouse in the country to have both an elevator and siding.
The light was the second brightest in the Western hemisphere with 28 million candlepower but was reduced to 1.5 million to accommodate Sullivan's Island residents. It can still be seen 27 miles out to sea on clear nights.
Originally painted white and red-orange (like that seen on Coast Guard helicopters), local residents petitioned the government to change the color to the black and white seen today.
The Coast Guard chose the location because of its historic importance as being the site of the only U.S. life-saving station in South Carolina. Plans are in the works to get the lighthouse specifically placed on the National Register as it was declared eligible for such nomination in 2007.
The grounds, quarters and boat house will be open to the public from 1:00 to 5:00 pm. The program begins at 2:30 pm with music by Ward & Joel of Sol Driven Train.  South Carolina Poet Laureate Marjorie Wentworth and Msgr. Lawrence McInerny of Stella Maris Catholic Church join local officials at 3:00 pm for the symbolic key transfer. Because of safety concerns, only the base of the lighthouse will be open to the public following the ceremony. From 1:00 to 5:00 pm artists with Creative Sparks' Art on the Beach will display their work in the historic boat house. From 2:00 to 4:00 pm authors Margie Willis Clary and Kim McDermott will sign copies of their recent book, South Carolina Lighthouses. The Arcadia book will be available for purchase. All activities are free and open to the public. For more information, call the park at (843) 883-3123.
Last updated: April 14, 2015