Fort Sumter Flags 2007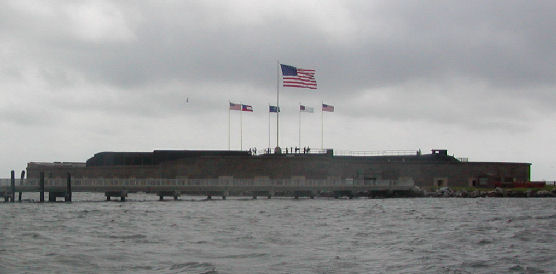 News Release Date:
May 21, 2007
Contact: Bill Martin, (843) 883-3123 x 41
The National Park Service announced today that it has completed a four-month project to replace five flagpoles at Fort Sumter National Monument in Charleston Harbor. Since 1970, the 300th anniversary of Charleston's founding, six flags have flown over Fort Sumter daily: the 50-star United States flag and five historic flags, representing a timeline of the two governments controlling Fort Sumter during the course of the Civil War.
These five historic flags include two United States flags (1861 and 1865), two Confederate States flags (1861 and 1863) and the South Carolina state flag (adopted in 1861 and still current).
"Flags are powerful symbols," said Fort Sumter National Monument Superintendent Bob Dodson. "The flags that fly over Fort Sumter not only help us to tell the story of the Civil War here, but also serve as reminders of where we've come from as a nation and who we are today."
Two years ago the National Park Service conducted a study of all six flagpoles at Fort Sumter. While the large center pole used to fly the current United States flag proved to be in good condition, the five smaller poles showed signs of deterioration requiring replacement despite receiving many coats of paint over the last 36 years. These steel poles were replaced with five new aluminum poles that will last for many years to come with minimal maintenance. Additionally, one of the new poles is marked to show the height of Fort Sumter's walls prior to its reduction by Union artillery in 1863-1865.
Fort Sumter is located on a small man-made island in Charleston Harbor and is accessible only by boat. A ferry operated by Fort Sumter Tours, Inc. departs from the Fort Sumter Visitor Education Center at Liberty Square in downtown Charleston and from Patriots Point in Mount Pleasant. While departure times vary with the season, current departures from Liberty Square are at 9:30, 12:00 and 2:30 and from Patriots Point at 10:45, 1:30 and 4:00.
For more information, please call (843) 883-3123.
Last updated: April 14, 2015