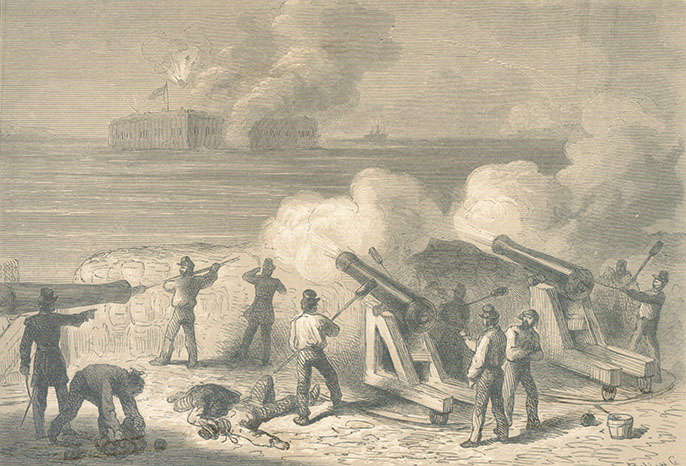 News Release Date:
March 31, 2016
Contact: Bill Martin, (843) 883-3123 x211
April 12th marks 155 years since the first shot of the American Civil War exploded over Fort Sumter. Join the National Park Service at Fort Sumter and Fort Moultrie as we commemorate the 155th anniversary of this historic event with a full day of special programs on Saturday, April 9, 2016. Experience this historic event through Living History programs, musket firing demonstrations, and flag programs at Fort Sumter for each arriving passenger ferry, and cannon firing demonstrations throughout the day at Fort Moultrie.
At 4:30 AM on April 12, 1861, Major Robert Anderson and his men witnessed the start of the bloodiest war in our nation's history when the first shot of the Civil War burst over Fort Sumter, acting as a signal for the rest of the newly formed Confederacy's artillery to open fire on Fort Sumter from several locations, including Fort Johnson, Fort Moultrie, and Morris Island. After 34 hours of fighting, Anderson agreed to evacuate his garrison from Fort Sumter, not knowing that this would only be the beginning of a four-year-long war.
April 9, 2016 at Fort Sumter: Programs for each arriving passenger ferry
Musket Firing Demonstrations

Living History

Flag Programs
April 9, 2016 at Fort Moultrie: Cannon Firing Demonstrations at 10:00 AM, 11:15 AM, 12:30 PM, 2:00 PM, and 3:00 PM.
Fort Sumter is located in Charleston Harbor and is only accessible by boat. Concession-operated ferry boats depart daily from the Fort Sumter Visitor Education Center at 340 Concord Street in Charleston, and from Patriots Point in Mount Pleasant. For information on ferry departure schedules and prices, call Fort Sumter Tours, Inc. at (843) 722-2628 or visit them online at
www.fortsumtertours.com
.
Fort Moultrie is located at 1214 Middle Street on Sullivan's Island. The site is administered by the National Park Service as a unit of Fort Sumter National Monument. Fort Moultrie represents the entire history of static seacoast defense in the United States, from the American Revolution to the end of World War II. The site is open daily from 9:00-5:00 and includes a visitor center with museum exhibits and an orientation film. An entrance fee of $3 for adults and $1 for senior citizens is charged to tour Fort Moultrie.
This year, 2016, marks the Centennial of the National Park Service's establishment. To celebrate, the National Park Service is working on new ways to help connect visitors to parks and help them find their parks. Come find yours today!
For more information on park news, events and programs you can follow
Fort Sumter on Facebook
, follow
Fort Moultrie on Facebook
, or call the park at (843) 883-3123. You can also share your park experience with others by posting on social media with the hashtag #FindYourPark.