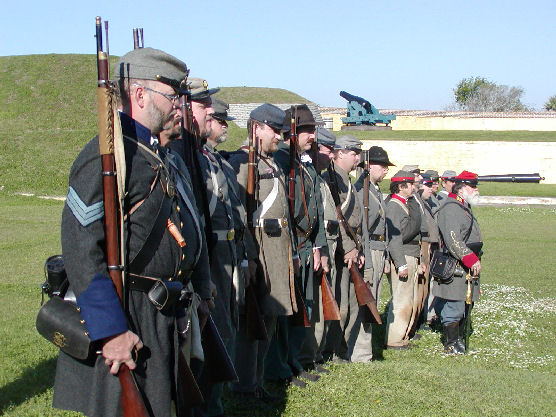 News Release Date:
May 15, 2009
Contact: Rick Hatcher, (843) 883-3123 x 22
The Tramp Brigade Organization of Historical Interpreters will present a series of living history programs at Fort Moultrie on Saturday and Sunday, May 30 and 31, demonstrating garrison and soldier life in 1859. Programs will range from cooking meals to infantry and artillery drills, guard mountings and similar daily activities of the U.S. Army and the militia on the eve of the Civil War. Included in the activities will be musket firing demonstrations.
This year marks the bicentennial anniversary of the current Fort Moultrie, the third to be built on Sullivan's Island. This brick fort opened in 1809 and remained in military service until 1947. The first Fort Moultrie, constructed of palmetto logs and sand, was the site of the battle of Sullivan's Island on June 28, 1776. Fort Moultrie played a major role in the 1860-61 events leading up to the April 12-13, 1861 bombardment of Fort Sumter. Since 1960, the fort has been administered as part of Fort Sumter National Monument, a unit of the National Park Service.
Fort Moultrie is located at 1214 Middle Street, Sullivan's Island, SC. The fort and visitor center are open daily from 9:00 a.m. to 5:00 p.m. Admission is $5/family; $3/adults, $1/seniors, children 16 and under are free. For more information call Historian Rick Hatcher at (843) 883-3123 x 22.