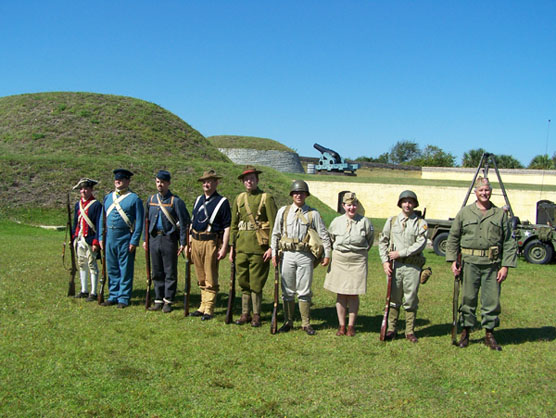 News Release Date:
December 8, 2009
Contact: Rick Hatcher, (843) 883-3123 x 22
On Saturday, December 19, 2009 Fort Moultrie will present Soldiers Through Time, a living history event from 10:00 a.m. to 4:00 p.m. Park rangers and reenactors will portray soldiers of the major time periods of Fort Moultrie's history from the Revolutionary War through World War II.
Visitors will be able to see the changes that took place in the uniforms, weapons, and related items carried and used by soldiers from 1776 to 1945, with formal presentations at 11:00 a.m., 1:00 p.m., and 3:00 p.m. At the 1:00 p.m. program, Lieutenant Colonel Jason A. Kirk, Commander of the Charleston District, U.S. Army Corps of Engineers, will make a brief historical presentation. All activities and programs will take place inside Fort Moultrie and are free.
December 19, 2009, marks the official bicentennial (200th year) of the Fort Moultrie one sees today. On that day in 1809 the U.S. Army Corps of Engineers completed the fort's construction and two companies of the Third U.S. Infantry Regiment served as its first garrison. Located on Sullivan's Island, there have been three forts on this site since 1776. The first Fort Moultrie, built of palmetto logs and sand, was the location of the first major Patriot victory of the American Revolution on June 28, 1776. Abandoned after the war, this fort was replaced by a second Fort Moultrie in 1798, which was destroyed by an 1804 hurricane. The current Fort Moultrie was completed in 1809 and was not closed by the US Army until 1947.
Fort Moultrie is a unit of Fort Sumter National Monument and is located at 1214 Middle Street, Sullivan's Island, South Carolina. The fort and visitor center are open daily from 9:00-5:00 except for New Year's, Thanksgiving and Christmas Days. For more information, call (843) 883-3123.