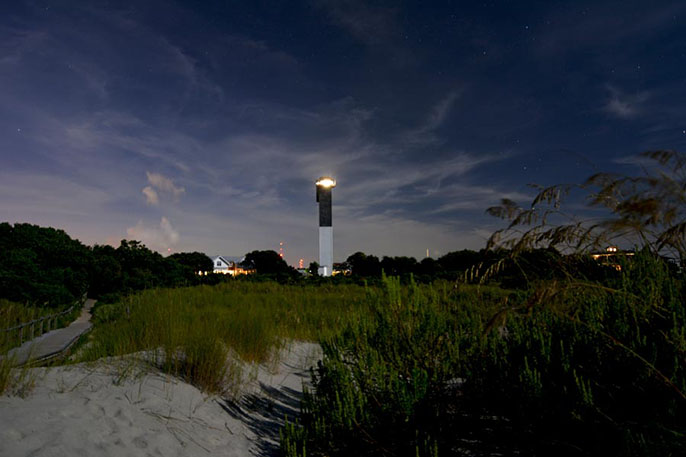 News Release Date:
March 23, 2016
Contact: Bill Martin, (843) 883-3123 x211
Join the National Park Service and the Lowcountry Stargazers on an exciting journey into space and learn about the most beautiful wonders above! This free program will take place at 8:30 PM on Friday, April 15 at the historic Lifesaving Station located at 1815 I'On Avenue, Sullivan's Island. There will be a brief presentation inside the Lifesaving Station before visitors are escorted to the stargazing field. In case of rain, the program will be rescheduled for Saturday, April 16, 2016.
For generations the stars have served a purpose in navigation, art, and most importantly enticing each individual to enjoy the many constellations above. President Abraham Lincoln stated, "Looking back at them in the heavens I saw the grand old constellations with which I was so well acquainted, fixed and true in their places. Gentlemen, the world did not come to an end then, nor will the Union now."
Fort Moultrie is located at 1214 Middle Street, Sullivan's Island, South Carolina. The site is administered by the National Park Service as a unit of Fort Sumter National Monument. Fort Moultrie represents the entire history of static seacoast defense in the United States, from the American Revolution to the end of World War II. The site is open daily from 9:00-5:00 and includes a visitor center with museum exhibits and an orientation film. An entrance fee of $3 for adults and $1 for senior citizens is charged to tour the fort.
This year, 2016, marks the Centennial of the National Park Service's establishment. To celebrate, the National Park Service is working on new ways to help connect visitors to parks and help them find their parks. Come find yours today!
For more information on park news, events and programs you can follow us on
Facebook
, or call the park at (843) 883-3123. You can also share your park experience with others by posting on social media with the hashtag #FindYourPark.