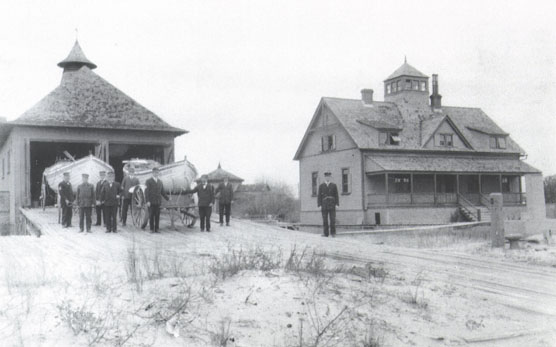 News Release Date:
April 19, 2013
Contact: Bill Martin, (843) 883-3123 x 11
Fort Sumter National Monument is proud to announce that the United States Coast Guard will hold a Silver Lifesaving Medal Ceremony at 10:00 AM on Saturday, April 27 on the grounds of the U.S. Coast Guard Historic District at 1815 I'On Avenue on Sullivan's Island. The posthumous award will be presented by Captain Michael F. White, Commander of Coast Guard Sector Charleston, to the family of James Coste, a Surfman with the U.S. Lifesaving Service, in recognition of a selfless act taken 115 years ago. The public is invited.
Surfman Coste drowned off Sullivan's Island while saving the life of young Ned Schachte in 1898. The rescued young man grew up and led a full life. His grandson, Charleston Mayor Joseph P. Riley, will add a poignant note to the program. The award recognizes Coste's sacrifice and bravery and will be much appreciated by his extended family, many of whom have served their country at sea. Coste's great-nephew, Hal Coste, will accept the award on behalf of the family. Like his great-uncle James, Hal Coste was awarded the Silver Lifesaving Medal in 1991 for rescuing swimmers in distress off Sullivan's Island.
The ceremony will be held in front of the 1895 Lifesaving Station Quarters building. An exhibit of historic lifesaving and Sullivan's Island photos will be on display in the former boathouse. The Lifesaving Service and the Revenue Cutter Service were combined in 1915 to form the U.S. Coast Guard Service. Today the historic structures in the district are preserved by the National Park Service as part of Fort Sumter National Monument. The public is invited to attend the ceremony, view the exhibits, tour the grounds of the lighthouse and learn more about the history of the Lifesaving Service and Sullivan's Island.
Fort Sumter National Monument is administered by the National Park Service. Along with the fort in Charleston Harbor, the monument includes the Fort Sumter Visitor Education Center at Liberty Square in Charleston and Fort Moultrie on Sullivan's Island. The park sites are open daily except for New Year's, Thanksgiving and Christmas Days. For more information, call the park at (843) 883-3123.