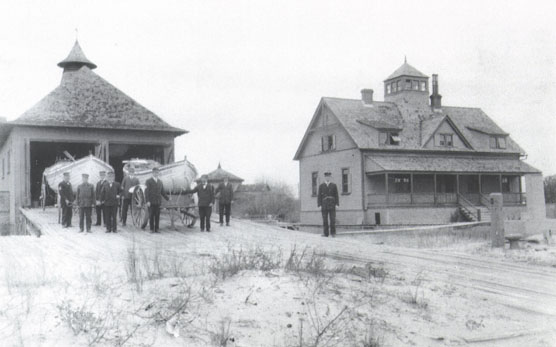 News Release Date:
October 25, 2013
Contact: Bill Martin, (843) 883-3123 x 11
Join the National Park Service for an open house on Sunday, November 10, 2013. The free event takes place from 1:00 to 5:00 p.m. on the grounds of the U.S. Coast Guard Historic District at 1815 I'On Avenue on Sullivan's Island.
The Historic District represents the evolution of events important in United States maritime history from 1895 to 1962, from the Lifesaving Service to the Sullivan's Island Lighthouse. The Lifesaving Service and the Revenue Cutter Service were combined in 1915 to form the U.S. Coast Guard Service. Commissioned on June 15, 1962 the Sullivan's Island lighthouse was the last major lighthouse to be built in the United States. It replaced the original Charleston harbor light, also known as the Morris Island Lighthouse. Today the historic structures in the district are preserved by the National Park Service as part of Fort Sumter National Monument.
The grounds, quarters cupola and Lifesaving Station boathouse will be open to the public from 1:00 to 5:00 p.m. Because of safety concerns, the lighthouse itself will not be open. There will be exhibits in the boathouse in conjunction with Creative Spark's Art on the Beach tour. All activities are free.
Fort Sumter National Monument is administered by the National Park Service. Along with the fort in Charleston Harbor, the monument includes the Fort Sumter Visitor Education Center at Liberty Square in Charleston and Fort Moultrie on Sullivan's Island. The park sites are open daily except for New Year's, Thanksgiving and Christmas Days. For more information, call the park at (843) 883-3123.