Civil War Sesquicentennial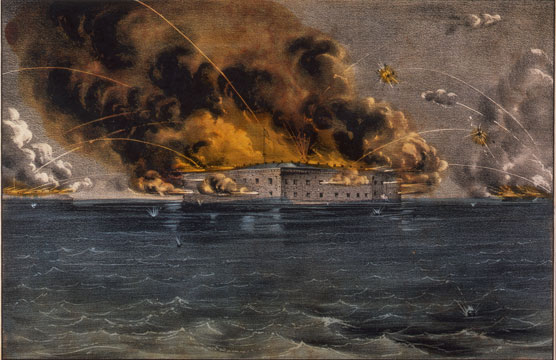 News Release Date:
March 23, 2011
Contact: Bill Martin, (843) 883-3123 x 11
The National Park Service today announced the details of the upcoming commemoration of the 150th anniversary of the first shots of the Civil War. Fort Sumter National Monument will offer nine days of living history programs at its three sites in the Charleston area from April 9–17, 2011.

April 12, 2011 marks 150 years since Confederate forces fired on Fort Sumter, initiating a war that transformed the nation. Not only was slavery abolished, but citizenship was redefined and the federal union was strengthened.

"Fort Sumter provides visitors with the opportunity to understand, reflect upon and deepen their appreciation of our shared history and the relevance of this period to society today," said Superintendent Tim Stone. Quoting Secretary of the Interior Ken Salazar, Stone continued, "The sesquicentennial of the Civil War is a time to commemorate those who fought and died during this pivotal era in American history. At the same time, it is an opportunity for us to renew our commitment to the ongoing march for freedom and equality for all people."

At Fort Sumter, located in Charleston Harbor, re-enactors will present programs including musket firings and heavy artillery drills. From April 9–13, Union re-enactors will be on site. On April 14, flag ceremonies for the first five tour boats of the day will mark the Union surrender of Fort Sumter to Confederate forces. From April 15–17, Confederate re-enactors will occupy the fort. For information on tour boat availability visitors should contact Fort Sumter Tours, Inc. at (843) 722-2628 or visit their website at www.fortsumtertours.com. Because of safety concerns, private boat access to Fort Sumter will be restricted during this time.

Fort Moultrie, located at 1214 Middle Street, Sullivan's Island, will have up to 250 re-enactors encamped on the park grounds. They will provide musket firings and heavy artillery drills throughout the day. On both weekends, special children's musket drills will also be held. From April 9–16 Fort Moultrie will be open from 9:00 a.m. to 7:00 p.m. and on April 17 from 9:00 a.m. to 5:00 p.m. The normal entrance fee for Fort Moultrie will be suspended for the duration.

The Fort Sumter Visitor Education Center at Liberty Square, located at 340 Concord Street in Charleston, will have daily programs focusing on the civilian home front at the beginning of the Civil War. From April 9–16 the visitor center will be open for extended hours from 8:30 a.m. to 8:00 p.m. and on Sunday, April 17 from 8:30 a.m. to 5:00 p.m. There is no charge to visit the site.

For more information on the interpretive programs being offered, you can follow us on Facebook or visit the Fort Sumter Sesquicientennial website.
Last updated: April 14, 2015