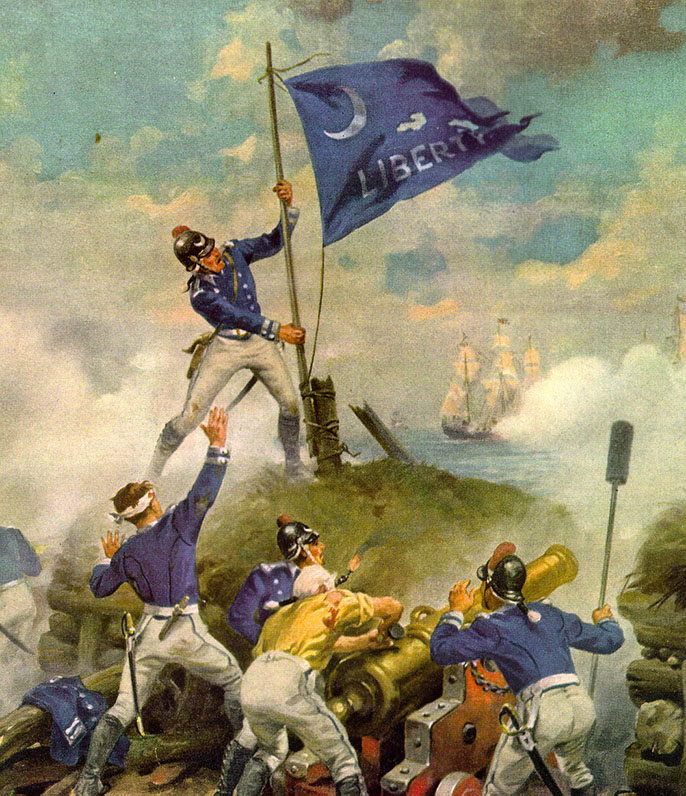 News Release Date:
June 3, 2014
Contact: Bill Martin, (843) 883-3123 x 11
Fort Sumter National Monument invites you to celebrate Carolina Day with a free weekend of special programs at Fort Moultrie on Saturday and Sunday, June 28–29. This year's event features Revolutionary War musket and artillery demonstrations, period medical program, life of a Revolutionary War soldier as portrayed by members of the 2nd South Carolina regiment, and a Saturday evening concert by the 246th Army Band at 7:00 p.m. The programs will be ongoing throughout the day between 10:00 a.m. and 4:00 p.m. The fort and visitor center will be open from 9:00 a.m. to 5:00 p.m. and the normal entrance fee will be waived for the weekend.
Carolina Day, observed every year on June 28 throughout South Carolina, commemorates the successful defeat of British land and naval forces by Carolina and Virginia patriots on June 28, 1776. This was the first decisive victory by the American Colonies in their fight for independence and prevented the British from gaining a foothold into South Carolina for another four years. This year marks the 238th anniversary of the battle of Sullivan's Island.
Fort Moultrie is administered by the National park Service as a unit of Fort Sumter National Monument. Located at 1214 Middle Street, Sullivan's Island, South Carolina, the fort and visitor center are open daily from 9:00-5:00 except for New Year's, Thanksgiving, and Christmas Days. An entrance fee to tour Fort Moultrie is normally charged. For more information, call (843) 883-3123.