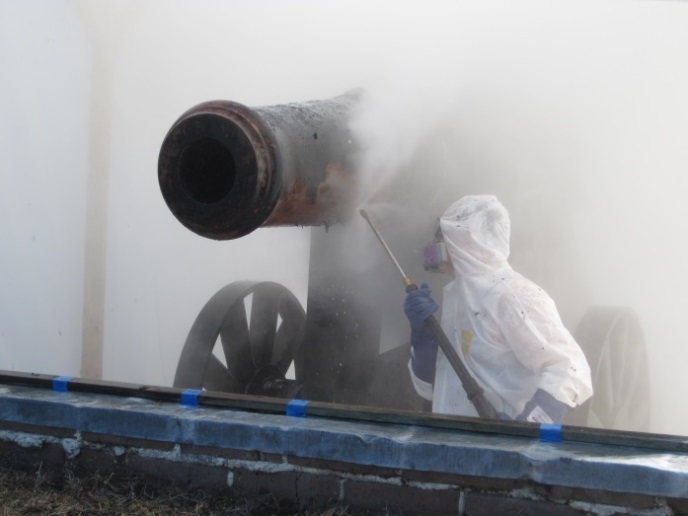 News Release Date:
November 3, 2015
Contact: Bill Martin, (843) 883-3123 x211
For the past five years, the National Park Service has partnered with the Warren Lasch Conservation Center, a part of Clemson University, located in North Charleston, South Carolina, to conserve historic metals at Fort Sumter National Monument. Through the Adopt-A-Cannon Program the Fort Sumter-Fort Moultrie Historical Trust has raised funds necessary to complete the conservation of the park's historic cannons. The park's collection of cannons at Fort Moultrie and Fort Sumter from the period 1830-1890 represents the best grouping of historic seacoast artillery in the United States.
On Wednesday, October 14, 2015, the Warren Lasch Conservation Center began the process of selecting several cannon at Fort Sumter to undergo the process of conservation. Fort Sumter National Monument currently possesses 40 cannon and several have already been adopted and treated. Superintendent Tim Stone said, "The generosity of citizens to help preserve these unique historic cannons will ensure that the next generation can also visit and learn from our past history."
This important conservation effort will take place over the course of several months. Each cannon takes approximately two to three weeks to complete. Park rangers will provide interpretation to the visiting public during the conservation effort. The public can follow the progress of this rare project to conserve these historic weapons and metals via updates and photos at www.nps.gov/fosu and social media.
Fort Sumter is the site of the opening bombardment of the Civil War on April 12-13, 1861. Located in Charleston Harbor, the fort is only accessible by boat. Concession-operated ferry boats depart daily from the Fort Sumter Visitor Education Center at 340 Concord Street in Charleston, and from Patriots Point in Mount Pleasant.
For information on ferry departure schedules and prices, call Fort Sumter Tours, Inc. at (843) 722-2628 or visit them online at
www.fortsumtertours.com
. For more information on park news, events and programs you can follow us on Facebook at
www.facebook.com/FtSumterNPS
. You can also share your park experience with others by posting on social media with the hashtag #FindYourPark.