Date:
January 7, 2016
Contact:
Bill Martin
, (843) 883-3123 x211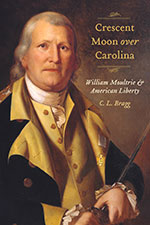 C.L. Bragg, author of Crescent Moon over Carolina: William Moultrie and American Liberty, the only book-length biography of General William Moultrie, will be speaking about his book as the next event in our author series at Fort Moultrie.
Mr. Bragg will speak at 1:00 P.M. Saturday, January 23, 2016 in the Fort Moultrie visitor center (1214 Middle Street, Sullivan's Island, SC). He will be available to sign copies of his book immediately following the program until 4:00 P.M. In addition to the book signing, National Park Service rangers and volunteers will offer musket firing demonstrations and interpretive programs at 10:00 a.m., 11:00 a.m., 2:30 p.m., and 3:30 p.m. inside of Fort Moultrie. These programs are part of a series of firing demonstrations which will take place the fourth Saturday of each month.
Crescent Moon Over Carolina examines the life of William Moultrie, South Carolina's preeminent patriot whose defining moment was the defense of a small fort at the entrance to Charleston Harbor in 1776. But Moultrie was more than the iconic defender of Charleston. He was one of South Carolina's most influential elder statesmen during the latter decades of the 1700s, twice serving as governor, and counted among his friends many of our nation's ardent patriots and founding fathers.
About the Author: Dr. C. L. "Chip" Bragg is a practicing anesthesiologist in Thomasville, Georgia. His lifelong passion for American history has resulted in the publication of three books: Distinction in Every Service: Brigadier General Marcellus A. Stovall, C.S.A., Never for Want of Powder: The Confederate Powder Works in Augusta, Georgia, and Crescent Moon over Carolina: William Moultrie and American Liberty. His next book, Martyr of the American Revolution: The Execution of Isaac Hayne, South Carolinian, will be released by the University of South Carolina press in late 2016 or early 2017.
Superintendent Tim Stone said, "We are excited about this important new book. A comprehensive biography on William Moultrie is something that's been needed for a long time. He was an incredibly important figure in the history of South Carolina and the United States."
Fort Moultrie is located at 1214 Middle Street, Sullivan's Island, South Carolina. The site is administered by the National Park Service as a unit of Fort Sumter National Monument. Fort Moultrie represents the entire history of static seacoast defense in the United States, from the American Revolution to the end of World War II. The site is open daily from 9:00-5:00 and includes a visitor center with museum exhibits and an orientation film. An entrance fee of $3 for adults and $1 for senior citizens is charged to tour the fort.
For more information on park news, events and programs you can follow us on
Facebook
. You can also share your park experience with others by posting on social media with the hashtag #FindYourPark.