54th Massachusetts Program 2011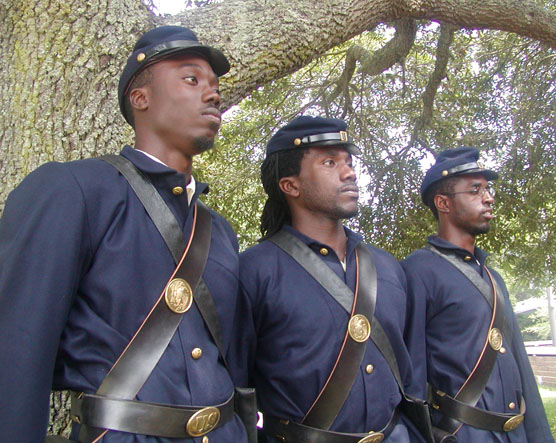 News Release Date:
June 23, 2011
Contact: Bill Martin, (843) 883-3123 x 11
Join National Park Ranger Donel Singleton and the 54th Massachusetts Volunteer Infantry, Company I, Civil War Reenactment Unit at Fort Moultrie for a free special program commemorating the regiment on July 16, 2011. The 54th was the first African-American regiment organized in the North following the January 1863 Emancipation Proclamation. They spearheaded the July 18, 1863 assault on Morris Island's Battery Wagner, located in Charleston Harbor, and were the subject of the hit movie Glory.

Prior to the assault on Battery Wagner, it was widely believed in both the North and South that African-American men did not possess the necessary skills and bravery needed to become efficient soldiers. Their heroics on Morris Island dispelled this belief and led to the continued recruitment of over 180,000 African-American troops in the Union Army and Navy.

Please join us in commemorating this historic regiment and battle. This educational program will take place at Fort Moultrie and the normal entrance fee will be waived for the day.

1:00—4:00 p.m. Living History with Joseph McGill and the 54th Massachusetts reenactors
1:00—2:00 p.m. Children's activities with the women of the 54th Massachusetts
2:00 p.m. Presentation in Fort Moultrie Visitor Center Auditorium
3:00 p.m. Watch the battle scene from the 1989 film Glory.

Fort Moultrie is administered by Fort Sumter National Monument, a unit of the National Park Service. Located at 1214 Middle Street, Sullivan's Island, South Carolina, the fort and visitor center are open daily from 9:00-5:00 except for New Year's, Thanksgiving and Christmas Days. For more information, call (843) 883-3123.
Last updated: April 14, 2015