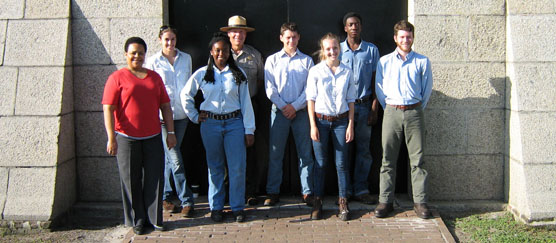 News Release Date:
April 18, 2013
Contact: Bill Martin, (843) 883-3123 x 11
Are you a teenager looking for a challenging summer job? If so, you may be interested in working for the National Park Service as a member of the Youth Conservation Corps at Fort Sumter National Monument. The Youth Conservation Corps (YCC) was established by Public Law 93-408. It is a summer employment program for young men and women between the ages of 15-18 who work, learn and earn together on projects that further the development and conservation of the natural and cultural resources of the United States.
This job entails physical work outdoors in temperatures sometimes above 90°. The work this summer will be helping to maintain several historic sites within the park. In addition to these tasks, the park will provide environmental education and field trips to other parks.
Applications are available at the Fort Moultrie Visitor Center, located at 1214 Middle Street on Sullivan's Island, from April 18-May 3. You may also download applications from https://www.nps.gov/gettinginvolved/youthprograms/upload/ycc_application.pdf. Applications may be returned to the park in person, mailed to Fort Sumter National Monument, 1214 Middle Street, Sullivan's Island, SC 29482, or faxed to (843) 883-3910 to the attention of Megan Valentine. The deadline for accepting applications is 3:30 p.m. on May 3, 2013.
The park will randomly draw the names of at least four young people to work this summer, 40 hours per week, Monday through Friday, paid at minimum wage of $7.25 per hour. Applicants MUST be available for work from 7:30 a.m. until 4:00 p.m. Monday-Friday, 40 hours per week beginning on June 10th and ending on August 2nd with no unexcused absences and NO VACATIONS.
Applicants must be a permanent resident of the United States, have a Social Security card, have a desire and willingness to work outdoors and have no history of serious crime or anti-social behavior that might create safety problems. In addition your parent or legal guardian must consent to your working and be able to provide the proper type of work clothing such as long sleeved shirts, jeans and work boots. A mandatory orientation for selected applicants and parents will be held on Monday, May 13th at 6:30 p.m. to provide further details.
For more information please call Megan Valentine at (843) 883-3123 ext. 26 or Sandy Pusey at ext. 16.