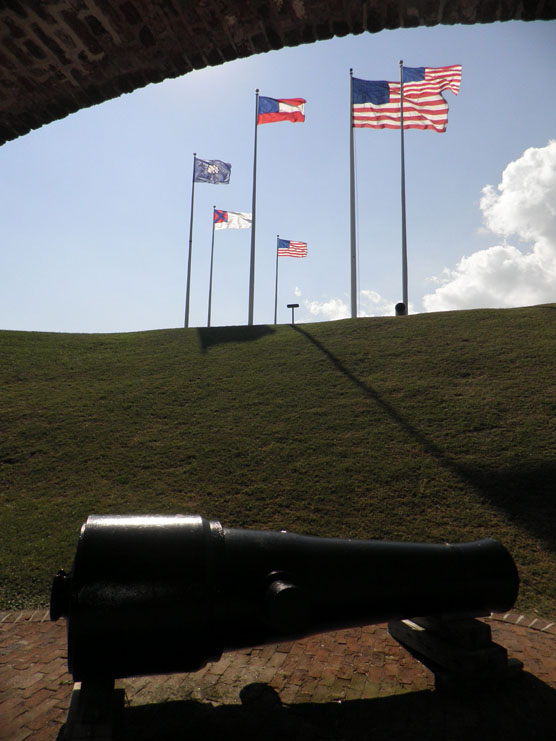 News Release Date:
February 24, 2011
Contact: Carlin Timmons, (843) 881-5516
The National Park Service announced today that Fort Sumter National Monument has been selected for the 2011 national Passport To Your National Parks commemorative stamp. Each year, Eastern National holds a photo contest for National Park Service employees and Volunteers-In-Parks (VIPs) to select ten images—one national and nine regional—for the collectible stamp set. Park Ranger Carlin Timmons submitted the winning photo. Eastern National is a nonprofit cooperating association of the National Park Service.

"It is an honor to have been chosen as this year's national winner," said Superintendent Tim Stone. "This is an opportunity to put Fort Sumter in the national spotlight to reflect on the meaning and legacy of America's most tragic war."

The upcoming sesquicentennial anniversary of the start of the Civil War, which began on April 12, 1861, most likely contributed to Fort Sumter's selection this year. As part of the anniversary's observance, living history programs will be presented at the park over a nine day period, April 9-17, 2011. The Civil War marks a defining moment in American history that transformed the nation.

Fort Sumter National Monument is administered by the National Park Service. The fort is located in Charleston Harbor and is accessible only by boat. The Fort Sumter Visitor Center is located at 340 Concord Street in Charleston. Fort Moultrie, a unit of Fort Sumter National Monument, is located at 1214 Middle Street on Sullivan's Island. The park is open daily except for New Year's, Thanksgiving and Christmas Days. For more information, call (843) 883-3123 x 20.