Date:
April 22, 2010
Contact:
Dawn Davis
, (843) 883-3123 x 23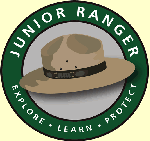 On Saturday, May 8, 2010 Fort Moultrie will hold the fourth annual National Junior Ranger Day. Families with children ages 12 and younger are invited to come outside and play games and learn about history from 10:00-12:00 and 2:00-4:00. This program is free.
Participants will learn and play games that children would have played in the 18th and 19th centuries. Games will include duck, duck, goose; sack race; hop scotch; Charleston bridge; hoop and stick; and many more. Children who participate will earn a special National Junior Ranger patch and certificate.
Junior Ranger programs help connect children and their families to their National Parks. Many parks have Junior Ranger programs. Locally, Fort Sumter National Monument, Fort Moultrie, and Charles Pinckney National Historic Site have Junior Ranger programs to help children learn the story of each site. A booklet is completed by exploring the history of the site and the reward is a Junior Ranger badge. These programs are offered on a daily basis.
Fort Moultrie is a unit of Fort Sumter National Monument and is located at 1214 Middle Street, Sullivan's Island, South Carolina. The fort and visitor center are open daily from 9:00-5:00 except for New Year's, Thanksgiving and Christmas Days. For more information, call (843) 883-3123.