Date:
August 1, 2008
Contact:
Bill Martin
, (843) 883-3123 x 38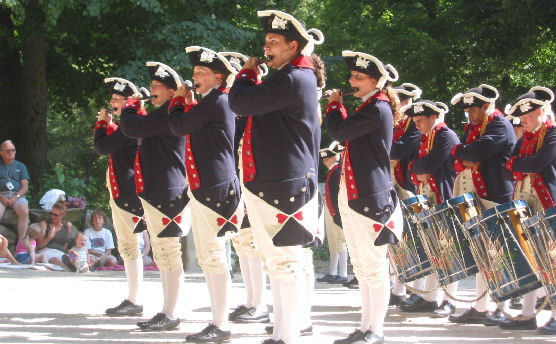 The Plymouth Fife & Drum Corps will be performing at two National Park Service sites on Saturday, August 9, 2008. At 11:00 AM the Corps will perform at Fort Moultrie on Sullivan's Island, then at 4:30 PM at Charles Pinckney National Historic Site in Mount Pleasant. The events are free.
The corps is made up of 40 to 50 students ranging in age from 12 - 18 who gather from Plymouth, Michigan and surrounding communities year round in preparation for its performance season. Its members are self-supporting and dedicated to preserving the ancient arts of color guard, fifing, and drumming through live performances at parades, historical and patriotic celebrations, concerts, cultural affairs, and other civic events. They are dressed in replicas of the Continental uniform of George Washington's personal Lifeguard (white wool breeches and waistcoat and a blue wool Continental coat trimmed in red).
While fifing and drumming has remained popular in the east since the days of the American Revolution, this ancient music has only in recent years been heard regularly in the Midwest. Watch and listen as these fine committed musicians perform. Let the sound of the field drums and wooden fifes take you back over 200 years to the time of George Washington, William Moultrie, Francis Marion, and the rag-tag Continental Army.
Fort Moultrie, located at 1214 Middle Street, Sullivan's Island, SC is a unit of Fort Sumter National Monument. There the National Park Service preserves the 171-year history of seacoast defense in the United States from the Revolutionary War through World War II. Charles Pinckney National Historic Site, located at 1254 Long Point Road in Mount Pleasant, SC is a remnant of the lowcountry plantation of Charles Pinckney, a signer of the United States Constitution who made significant contributions to its creation.