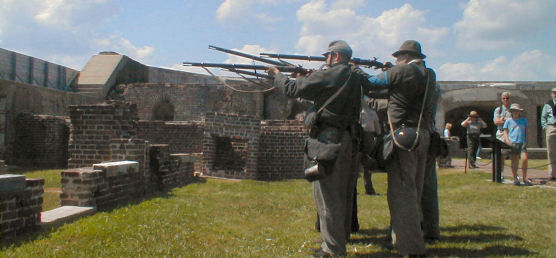 News Release Date:
April 6, 2007
Contact: Rick Hatcher, (843) 883-3123 x 22
Fort Sumter National Monument Superintendent Bob Dodson announced today that the following activities are planned in observation of the 146th anniversary of the April 12-13, 1861 bombardment of Fort Sumter. On Friday, April 13 members of the Coastal Amateur Radio Association will establish a temporary "ham radio" station in the fort and broadcast to other amateur radio operators around the world. The broadcast will continue all night and into Saturday, April 14. Visitors are welcome to talk with the amateur radio operators.
In addition, on Saturday, April 14 reenactors from the 10th and 27th South Carolina Infantry Regiments will be at Fort Sumter providing musket firing demonstrations and other Living History interpretive programs for visitors arriving on the following ferry runs: 9:30 AM, 10:45 AM, 12:00 PM, and 1:30 PM. Fort Sumter was the site of the opening battle of the American Civil War on April 12-13, 1861.
Today visitors arrive by ferry from either the Fort Sumter Visitor Education Center at Liberty Square (next to the South Carolina Aquarium in downtown Charleston) or from Patriots Point Naval and Maritime Museum in Mount Pleasant. Departures from Liberty Square are at 9:30 AM, 12:00 PM and 2:30 PM daily. Departures from Patriots Point are at 10:45 AM, 1:30 PM and 4:00 PM daily.
For more information, please call (843) 883-3123.