Fort Sumter Field Trip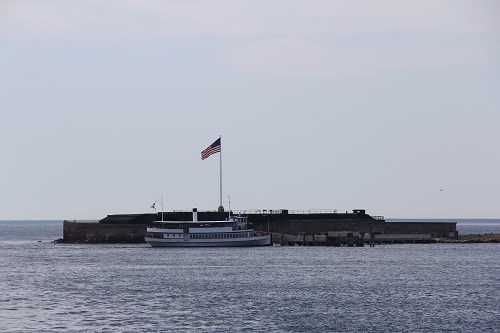 Historic Fort Sumter is located in the middle of Charleston Harbor and is only accessible by boat. Before scheduling a trip to Fort Sumter make sure to plan ahead..
Fort Sumter does not charge an entrance fee; however, tickets for the authorized concession-operated ferry to Fort Sumter are required and may be purchased in advance through Fort Sumter Tours. Please reference fees for additional details.

Ranger-led field trips to Fort Sumter are not available this spring 2019. For more information: contact Paula Ogden-Muse at 843-883-3123 x251.
Taking a school group out to Fort Sumter and looking for an educational activity?
Try this
Scavenger Hunt
! (Ideal for grades 3-5)
Before visiting Fort Sumter please review the safety rules and regulations with students and chaperones. Required: Children's groups (12th grade and younger) are required to have a minimum of one adult leader for every ten children. Youths must stay with their designated adult leaders at all times. Adult leaders are responsible for their group's conduct.
For the protection of the visitors and the historic fort the regulations include:
Be aware of the uneven surfaces throughout the fort and watch your step!
No climbing: no one may climb on any piece of the fort including the historic cannon
Stay within chain and metal barriers: do not cross any of the barriers set in place for safety purposes
Leave everything where it is found: do not remove a single piece of Fort Sumter including loose bricks rock and shell.
Do not go onto or past the large rocks surrounding Fort Sumter
Smoking is not permitted.
Stay hydrated: bring a reusable water bottle and take advantage of the water bottle filling stations on site
No more than 15 persons may be inside of the bookstore at one time and remember all children under 18 must be accompanied by an adult.
These rules are in place to protect you and this historic site so future students can learn from and enjoy it too!


Last updated: June 27, 2019