Date:
August 25, 2011
Contact:
Kelly Cardwell-Roman
, 315-338-7730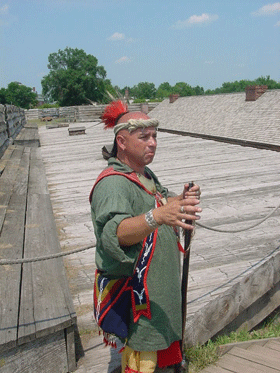 The Battle of Oriskany may be considered one of the most tragic events in early American history.
But how did it affect the early inhabitants of the Mohawk Valley, the Haudenosaunee, and their centuries long "Great Peace?"Join us on Saturday, September 3rd, for a special program presented by the Oneida Indian Nation First Allies and Fort Stanwix National Monument to learn who the Haudenosaunee were, why they chose to fight, and how the battle they fought for their families changed two nations.

The program, "The Six Nations at the Battle of Oriskany," will be offered at 11 a.m. and 2 p.m.
Both programs will start at the battlefield parking lot at Oriskany Battlefield State Historic Site.
We recommend participants wear comfortable walking shoes and dress for the weather.

Oriskany Battlefield State Historic Site is currently open 7 days a week from dawn to dusk; the site's parking lot is open from 10:00 a.m. to 4:00 p.m. Admission to the site is free. Through a partnership between the National Park Service and the New York State Office Parks, Recreation, and Historic Preservation, National Park Service rangers provide daily visitor services as well as special programs at the battlefield. For more information about upcoming events, please call Fort Stanwix National Monument at (315)338-7730. Visit the Fort Stanwix National Monument's web page at www.nps.gov/fost.