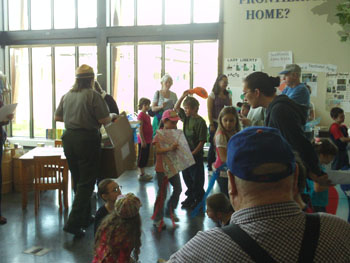 News Release Date:
February 14, 2011
Contact: Valerie Morgan, 315-336-4448
Rome, NY: Let's Move with the Backyard Club at Fort Stanwix National Monument and make a Backyard Buddy! The event will be Monday, February 21, from 10 to 11:30 a.m. at the Willet Center on James Street.

Piece together the "Habitat History of Fort Stanwix" through interactive picture puzzles and find out more about climate change in the parks. Recognize individuals in your community who use environmentally friendly practices with Backyard Buddy Awards. Go undercover disguising yourself as an Alien Invader to hunt down the culprits that may be destroying our national forests. Do you want to trim down your carbon footprint and help the environment? Take a trip down Recycle Aisle and turn your trash into treasures of art. Make Oneida Lake waters cleaner by building a rain garden like the wetlands at the Great Swamp Conservancy. Let's get outside at Fort Stanwix and see what's in your backyard today.

For more information about future "School's Out at the Fort: The Backyard Club", please call Fort Stanwix National Monument at 315-338-7730 and speak with one of the rangers. The other program dates are: Wednesday, April 20, Monday, May 30, Saturday, August 20, Friday, November 11, and Wednesday, December 28. Program times to be announced. All programs are free and no reservations are necessary.

Fort Stanwix National Monument is open seven days a week from 9:00 a.m. to 5:00 p.m. Admission to the park is free. Activities are ongoing unless noted. For more information about upcoming events please call the park at (315) 338-7730. Please visit the park's web page at www.nps.gov/fost for additional information about the park and up-to-date news about park events.
                                                            - NPS -