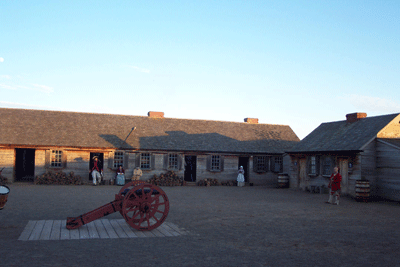 News Release Date:
November 17, 2006
Contact: Bill Sawyer, 315-338-7730
Life at Fort Stanwix was always difficult and demanding of sacrifice. However, the winter brought conditions and hardships to the men, women, and children garrisoned here that were sometimes worse than an enemy attack. Sometimes, the holidays that should have brought reasons to celebrate only reminded people of their unbearable living conditions and their separation from loved ones.

On Saturday, November 25th, from 5:30 p.m. to 8:00 p.m., the staff and volunteers at Fort Stanwix National Monument invite you to enter the winter garrison of 1778. Through the park's living history program, you will experience how people survived the harsh winter months at the fort and how the various cultural groups within the garrison marked the holiday season. Through music and song, you will also have the chance to learn the origins of some of our favorite "American" holiday traditions.

"We look forward to hosting this event every year," explained Park Ranger Bill Sawyer. "This event gives us the opportunity to present an aspect of the fort's story to you in a way that is enjoyable for everyone. Please join us for an evening of fun, enlightenment and remembrance."

During the event, the quarters are illuminated by candle light and everyone keeps warm by the heat from the fireplaces. You will have the opportunity to enter the quarters, talk with the park staff and volunteers in a relaxed atmosphere and experience a taste of the past. Please bring your family and friends, as well as visitors from out of town. In addition to this, the award winning exhibits inside the Marinus Willett Center at the Corner of James and Dominick Streets will be open to the public.

Sawyer concluded, "The best part of this event is enjoying each others company and honoring the sacrifices of the men, women and children of our military from our nation's past and today."

Fort Stanwix National Monument is open seven days a week 9:00 a.m. to 5:00 p.m., except Thanksgiving, Christmas and New Year's Days.  Admission to the Marinus Willett Center and Fort are free.  Visitors are encouraged to start their experience at the Marinus Willett Center at the intersection of West Dominick and James Streets.  A park ranger can assist you in planning your visit. For more information about upcoming events call the park at (315) 338-7730. Please visit the park's web page at www.nps.gov/fost for additional information.
- NPS -