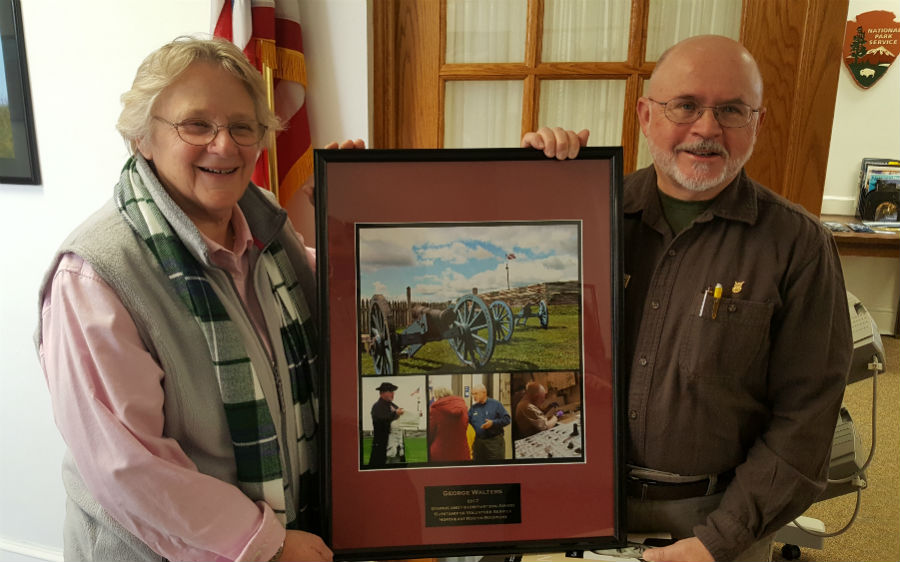 News Release Date:
May 2, 2017
Contact: Kelly Roman, 315-338-7730
Rome, NY –
 As the National Park Service wraps up National Volunteer Week, one Volunteer-In-The-Parks at Fort Stanwix National Monument was celebrated. George Walters was awarded the NPS George and Helen Hartzog Outstanding Individual Service Award for the Northeast Region. Dedicating 21 years of service to the park, George Walters has contributed over 12,000 hours to further the NPS mission of resource stewardship and public engagement at the park. Keith Routley, the Chief of the Division of Cultural Resources at Fort Stanwix National Monument noted that "George has volunteered in the Division of Cultural Resources since 2009 and is among the most exceptional volunteers I have ever had the pleasure to work with."
A retired Price Analyst for the Air Force Research Laboratory, George had no prior experience working with archeological resources, museum collections, or living history programs. He adventurously pursued his curiosity  in the site's local history and has become a staple to the interpretive program at the park. George has also had the opportunity to work with the museum collection and aid in the installment of the most recent exhibit titled "From Memory to Monument" which is now open to the public at the park's Visitor Center and at Rome Historical Society.  
Former NPS Director George Hartzog and his wife Helen established the Volunteers-In-Parks Program to make it easier for citizens to donate their time and talents to the NPS. During his announcement of the program on November 17, 1970, Director Hartzog stated "When a VIP agrees to share his talents, skills and interests with the National Park Service, he is paying us one of the highest compliments possible by offering a most valued possession – his time." Today, more than 246,000 VIPs donate their time to the National Park Service every year.  
The Hartzog Award honors VIPs who have donated their skills and talents beyond the normal call of duty. "Volunteers are a key component to the success of any park," said Superintendent Frank Barrows, "and George embodies the purpose of Hartzog's vision to enable people access to their parks and allow them to seek out extraordinary experiences while donating their unique skillsets to better these nationally significant sites and resources."  
To discover what it might be like to volunteer in a park, consider participating in the upcoming statewide event I Love My Park Day. More than 120 state and national parks throughout New York are hosting volunteers for a day of service on Saturday, May 6
th
. Visitors are encouraged to sign up for the event through the Parks and Trails website at 
www.ptny.org/events/i-love-my-park-day
.  
To learn about volunteer opportunities with the National Park Service or at Fort Stanwix National Monument, visit 
www.volunteer.gov
 or call the park visitor center at 315-338-7730.
Fort Stanwix National Monument is open 7 days a week from 9 a.m. to 5 p.m. Admission to the park is free. For more information about upcoming events please call the park at (315) 338-7730. Visit the park's web page at www.nps.gov/fost, or follow Fort Stanwix on Facebook or Instagram, for additional information about the park and up-to-date news about park events. Fort Stanwix is one of over 400 parks in the National Park System. To learn more about national parks, visit www.nps.gov.