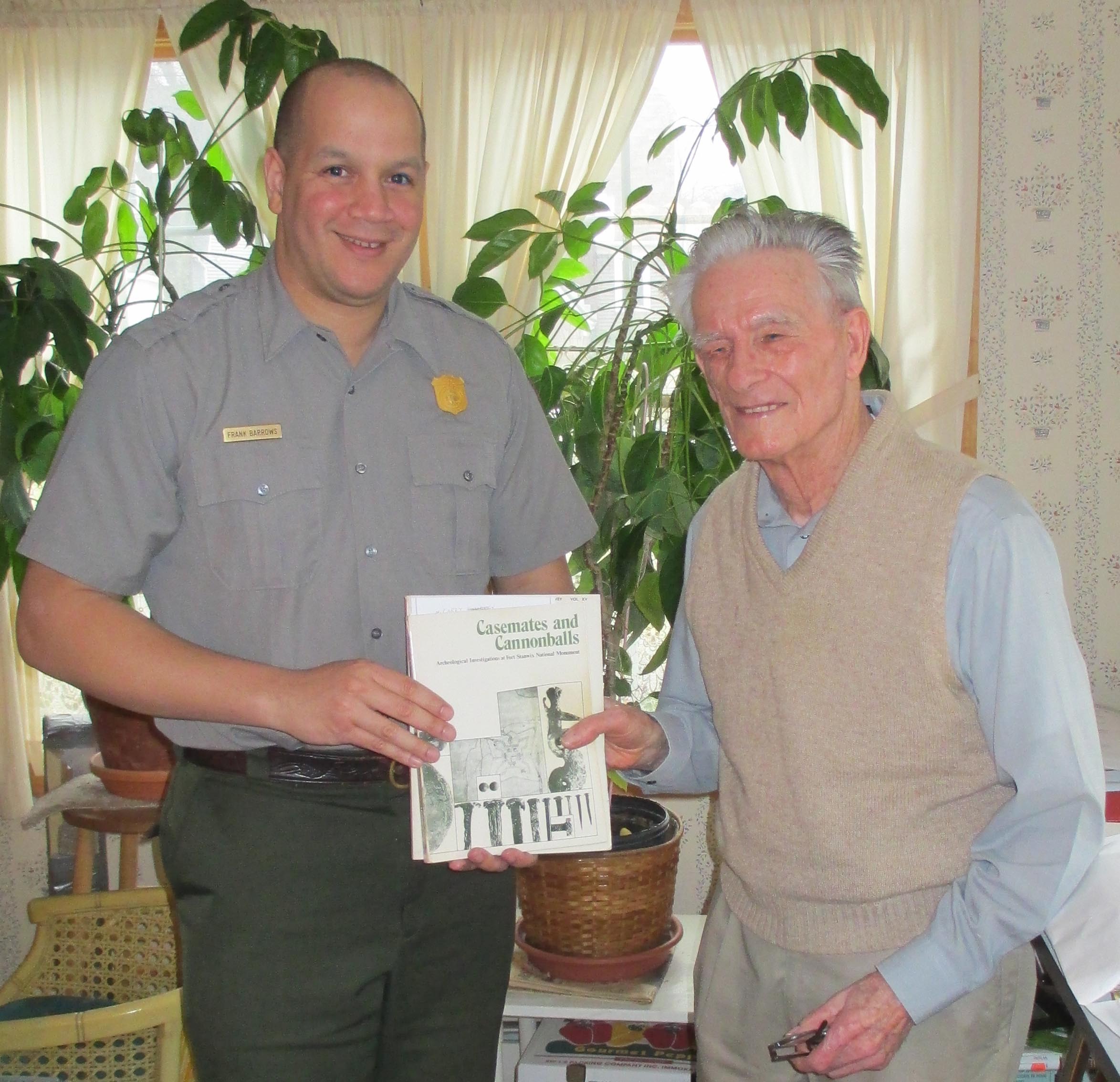 News Release Date:
April 14, 2015
Contact: Amy Roache-Fedchenko, 315-337-7738
Recently, Fort Stanwix National Monument received a generous donation from Mr. Orville Carroll. Carroll dedicated 30 years of his life's work to the National Park Service as a Historic Architect. During his years with the National Park Service, he accumulated items from his unique experiences. In April, Carroll donated a large collection of his photographs, research papers, and even the plane table he used to make drawings in the field.

As a Historic Architect, Carroll designed several historic buildings that thousands of visitors throughout the Nation Park Service experience each year. From the Mariah Wright House at Appomattox Court House National Historic Park to the Captain William Smith House at Minute Man National Historic Park, Carroll authored several Historic Structure Reports that allowed NPS officials to "see" the past as it once stood. His drawings aided the reconstruction of numerous places of national significance, including Fort Stanwix in the City of Rome. "Fort Stanwix National Monument is honored to receive such an important collection of materials from one chapter of Orville Carroll's 30 years of work for the NPS. Orville was instrumental in the development of so many park service projects, and in this case the reconstruction of Fort Stanwix. These materials will become an important resource in our museum collection," said Superintendent Frank Barrows.

Fort Stanwix National Monument was established in 1935 but remained without a physical location until the City of Rome, through the Rome Urban Renewal Agency, donated 16 acres of land to the National Park Service in the 1970s. Following extensive archeological excavations and research, like that published in Orville Carroll's Historic Structure Report, Fort Stanwix was reconstructed and opened to the public in 1976. Mr. Carroll's report is available online on the park's website: www.nps.gov/fost
Fort Stanwix National Monument is open from 9:00 am to 5:00 pm. Admission to the park is free. For more information about upcoming events please call the park at (315) 338-7730. Please visit the park's web page at www.nps.gov/fost, or follow us on Facebook,for additional information about the park and up-to-date news about park events.
About the National Park Service: More than 20,000 National Park Service employees care for America's 407 national parks and work with communities across the nation to help preserve local history and create close-to-home recreational opportunities. Learn more at www.nps.gov.