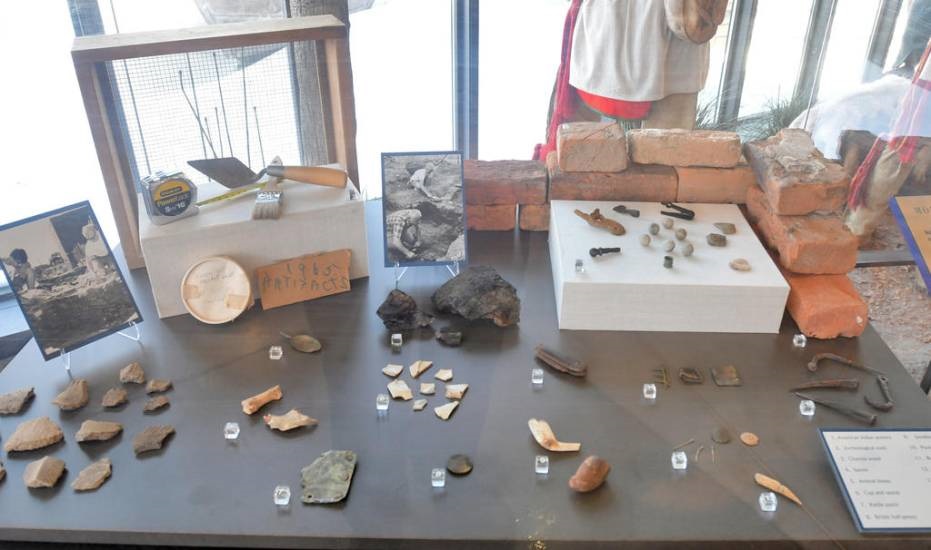 News Release Date:
January 2, 2018
Contact: Amy Roache-Fedchenko
Contact: 315-338-7738
Never before exhibited artifacts are now on display at Fort Stanwix National Monument. These artifacts are part of a two-part museum exhibit titled From Memory to Monument. Visitors to Fort Stanwix National Monument and Rome Historical Society can learn more about how the fort was reconstructed. The two venues offer different perspectives on the same event, highlight the history of Rome's urban renewal efforts, and shed light on the numerous people who participated in the reconstruction.
The exhibit opened in November 2016, but the park is changing the artifacts on display so that visitors can access more of the museum collection. "The artifacts are over 200 years old, but this is the first time they have been on exhibit at Fort Stanwix National Monument," stated Museum Curator Keith Routley.
The eighteenth century objects were found by J. Duncan Campbell when he first set out with the Fort Stanwix Museum to locate the remains of the original Fort Stanwix. His excavations in 1965 provided evidence that significant portions of the fort lay buried below the Rome landscape.
During his excavation, Campbell uncovered the remains of the eighteenth century bake house that were used by the American army during the Revolutionary War. In 2010, Rome Historical Society – Friends of the Fort donated the archeological collection to the park.
These objects are on exhibit at the Fort Stanwix National Monument visitor center until the end of May. After this time, visitors will be able to see more of Campbell's discoveries if they go on the "Behind the Scenes Museum Collection Tour" offered each year from the end of May through the end of August.
Fort Stanwix National Monument is free and open to the public Tuesday through Saturday, 9 AM to 5 PM. The visitor center in located at 100 North James Street in Rome. For more information to plan your visit to the park, please call 315-338-7730 or visit www.nps.gov/fost/.
                                                                              
                                                                     - NPS -