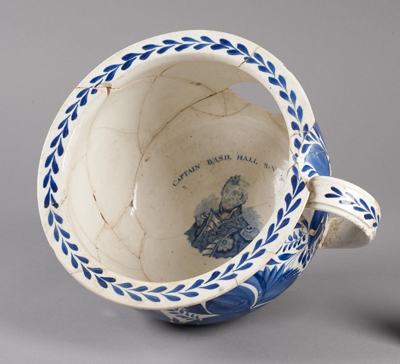 News Release Date:
May 23, 2011
Contact: Amy Fedchenko, 315 338-7738
Rome, NY: Fort Stanwix National Monument unveils a new exhibit featuring artifacts from the collection that have never been viewed by the public. The exhibit titled "Archeology at Fort Stanwix National Monument" will be on display from May 23rd through October 17th in the lobby of the Marinus Willett Center for Collection Management and Education. The history of archeology at the park and the process of archeology are described in panels with pictures from the actual excavations. Visitors get a chance to see artifacts found during excavations which highlight the 19th century history of Rome.
"We are excited to share objects from our collection that have never been seen by visitors and to showcase the archeology that made this park possible." says Debbie Conway, Superintendent. Among these artifacts are unusual items such as a chamber pot with the picture of British Naval Captain Basil Hall on the bottom. Come see the chamber pot for yourself and find out what Captain Hall did in the 19th century that made him so despised in the young United States.
Fort Stanwix National Monument is open seven days a week from 9:00 a.m. to 5:00 p.m. Admission to the park is free. Activities are ongoing unless noted. For more information about upcoming events please call the park at (315) 338-7730. Please visit the park's web page at www.nps.gov/fost for additional information about the park and up-to-date news about park events.
                                                       - NPS -