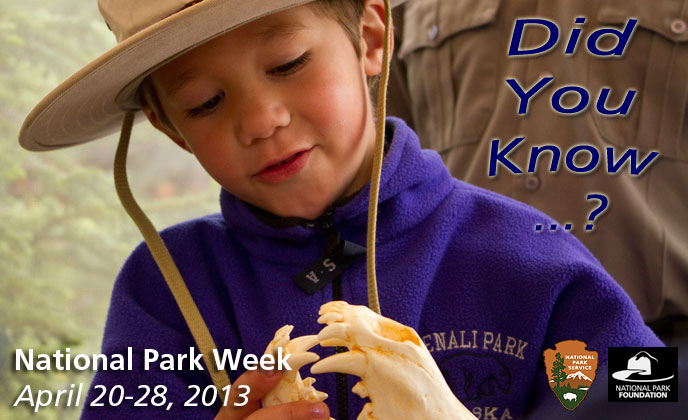 News Release Date:
April 10, 2013
Contact: Kelly Roman, 315-338-7730
Did you know that Fort Stanwix is only 16 out of 84 million acres of the world's most spectacular scenery and historic and cultural treasures called "national parks" in the United States? Do you want to learn more about America's national parks, but don't have the time to tour the country? Join Fort Stanwix National Monument staff at 11 am and 3 pm every day at the Marinus Willett Center during "National Park Week," April 20 - 28, 2013. We'll virtually discover parks where millions of stars light up the dark night sky, deer and antelope (and a few other critters!) play on the wide open range, and history is an unbelievable experience, not an exam.
Each day, a new program about one of the 401 national parks will be presented.We'll travel to parks with connections to George Washington on April 21st, journey to Washington, D.C. sites on the 22nd, walk through Salem Maritime NHS April 23rd, hike around Acadia NP on the 24th, experience Little Bighorn NM on the 25th, march through Saratoga NHP on the 26th, and trek the crown of the continent, Glacier NP on the 28th.
The park will offer special children's programming on Saturday, April 20th, kicking off National Park Week with Junior Ranger Day, and on Saturday, April 27th.Come get sworn in as a Junior Ranger and delve into hands-on activities specially designed for children of all ages!


Fort Stanwix National Monument is open seven days a week from 9 am to 5 pm. Admission to the park is free. Activities are ongoing unless noted. For more information about upcoming events please call the park at (315) 338-7730. Please visit the park's web page at www.nps.gov/fost for additional information about the park and up-to-date news aboutpark events. 

                                                                 -NPS-