Date:
March 30, 2007
Contact:
Kelly Cardwell
, 315 338-7730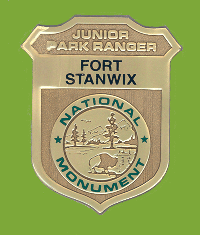 National Park Week is an annual celebration for recognition of Your National Parks. This year, during the week of April 22, 2007, Fort Stanwix National Monument and other National Parks will be giving special focus to the next generation of park visitors; those the National Park Service would like to call "Junior Rangers."

There are many special programs going on though out the nation and here in Central New York Fort Stanwix will be hosting a special Junior Ranger program entitled: "How I Helped the American Revolution." This free program will give children ages 8-14 the opportunity to experience a bit of what life was like for a soldier during the American Revolutionary War on the frontier. 

The 2 ½ hour program will take place on Saturday, April 28th from 9:30 a.m.-12:00 noon and from 1:00-3:30 p.m. Each Session is limited to 50 participants, so the park is requesting registration for any interested "recruits." Registration for this event will be between March 30th and April 20th, 9:00-5:00 p.m., and will be handled through the park's main phone number, 315-338-7730.

Fort Stanwix National Monument is open seven days a week, 9 am – 5 pm, except Thanksgiving, Christmas, and New Year's Days. Admissions to the Marinus Willett Center and fort are free. Visitors are encouraged to start their experience at the Willett Center at the intersection of West Dominick and James Streets. A park ranger can assist you in planning your visit. For more information about upcoming events call the park at 315-338-7730. Please visit the park's webpage at www.nps.gov/fost for additional information.  
                                          -NPS-