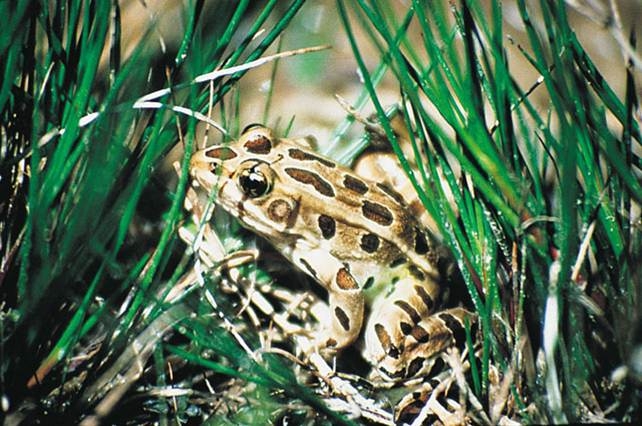 News Release Date:
August 9, 2012
Contact: Susan Jones, 315-338-7730
Leapfrog across the Oneida Carrying Place with Frogwatch USA at Fort Stanwix, Saturday, August 18. Race your own 'frog' and discover how far frogs can leap. Meet live native frogs from the Great Swamp Conservancy. Discover what these frogs and other frogs are saying about the wetlands in your backyard.

Join the Director of the Great Swamp Conservancy and learn about the benefits of the Ontario Watershed. Make your own Oneida Watershed rain stick. Learn how Fort Stanwix and the Erie Canal connect to the Ontario Watershed. Find out how you can become a 'Citizen Scientist' and help the wetlands in your backyard.

What's in your water? Join Eric Paul, NYSDEC, Biologist 1, Aquatic Toxicant Research Unit, Rome Fish Hatchery and become a Stream Explorer. Learn about aquatic habitats of Central New York and how climate change is affecting our water resources.

Join the fun! The Backyard Club meets on the third Saturday of each month. The next Backyard Club will be held September 15, 2012, from 10:00 am to 11:30 am and from 1:30 pm to 3:00 pm at the Fort Stanwix National Monument's Willett Center. Mark your calendars! For more information about The Backyard Club, please call Fort Stanwix National Monument at 315-338-7730 and speak with one of the rangers. All programs are free and no reservations are necessary.

Fort Stanwix National Monument is open seven days a week from 9:00 a.m. to 5:00 p.m. Admission to the park is free. Activities are ongoing unless noted. For more information about upcoming events please call the park at (315) 338-7730. Please visit the park's web page at www.nps.gov/fost for additional information about the park and up-to-date news about park events.
- NPS -