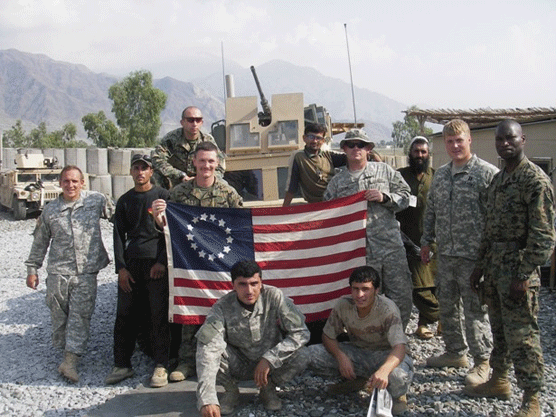 News Release Date:
July 28, 2007
Contact: Debbie Conway, Superintendent, 315 336-3113
This year as visitors attending the Honor America Days concert gaze upon Fort Stanwix National
Monument they will see a reproduction period flag that flew on July 4, 2007 over Camp Joyce in
Afghanistan. Captain Kevin Shea of the United States Army, formerly a National Park Service
volunteer and seasonal ranger at Fort Stanwix National Monument, took this flag into combat
with him when he was deployed to Afghanistan. In celebration of our nation's birthday,
Captain Shea had the flag flown over his base in Afghanistan on July 4th and sent the flag back
to us to fly over the fort during the Honor America Days concert. To honor Captain Shea, and
all the men and women serving in our armed forces, the staff and volunteers of Fort Stanwix
National Monument will also carry the flag during the parade.

"We are honored to carry and fly this combat flag over the fort during the Honor America Days
parade and concert," notes Superintendent Debbie Conway. "It is a great way to show our
support for all of our troops." Park staff plan on taking photographs of the flag being carried
in the parade and flying over the fort on the evening of July 28, 2007 to send back to Captain Shea.

Captain Shea started volunteering at Fort Stanwix when was he was a young boy and rose
through the volunteer and seasonal ranger ranks to become an outstanding drummer, soldier and
artilleryman. He graduated from Rome Catholic High School and St. Bonaventure University,
and entered the army after graduating college. Captain Shea is from a distinguished military family.
His Great Grandfather, Oscar Burkhard, was awarded the Congressional Medial of Honor for his
valor during Indian Wars in the 1890s, and his family believes an ancestor of his fought and died
during the Battle of Oriskany on August 6, 1777.

The Honor America Days Concert is scheduled to begin at 8 p.m. on July 28, 2007 on the lawn of
Fort Stanwix National Monument. The Syracuse Symphony Orchestra will present a pops concert
featuring international opera star, Maria Russo, acclaimed Rome native and graduate
of Rome Free Academy.

Fort Stanwix National Monument is open seven days a week from 9:00 a.m. to 5:00 p.m. Admission
to the park is free. Activities are ongoing unless noted. For more information about upcoming events
please call the park at (315) 338-7730. Please visit the park's web page at www.nps.gov/fost
for additional information about the park and up to date news about park events. 


                                      -NPS-