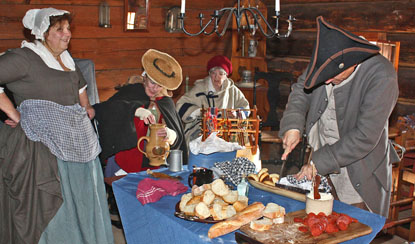 News Release Date:
November 15, 2009
Contact: Valerie Morgan, 315 338-7730
Rome, NY: On the frontier of New York in 1777, the soldiers and officers of the 3rd NY regiment and Savage's Detachment of Artillery sought to bring a touch of home to the isolated outpost. During the holiday season, they may have used decorations and other traditional customs reflecting their cultural diversity to make the fort seem a bit more like a home. On Saturday evening, November 28, 2009, Fort Stanwix National Monument invites you to discover what life might have been like during the holiday season for the soldiers and families of the fort.

From 6:30 to 8:30 p.m., explore the fort by candlelight and discover the origins of many of the customs and traditions that we still have today. Activities, such as caroling and a special children's walking tour, bring the past to life as you learn how the yuletide season was observed in the late 1700's. "The program also gives us an opportunity to reflect upon the men and women serving in the military today," says Park Ranger Valerie Morgan. "From home and around the world there are families, friends and grateful people, and service men and women, doing what they can to bring a bit of home to far-off places."

The children's walking tour booklets, as well as other reading materials about the holiday season during the American Revolution may be picked up at either the Willett Center or the Gregg Barracks. After they have been completed, the activity booklets can be taken to the Gregg Barracks for a special prize.

Fort Stanwix National Monument is open seven days a week from 9:00 a.m. to 5:00 p.m. Admission to the park is free. Activities are ongoing unless noted. For more information about upcoming events please call the park at (315)338-7730. Please visit the park's web page at www.nps.gov/fost for additional information about the park and up-to-date news about park events.  
                              - NPS -