Groundbreaking Ceremony Held for New Center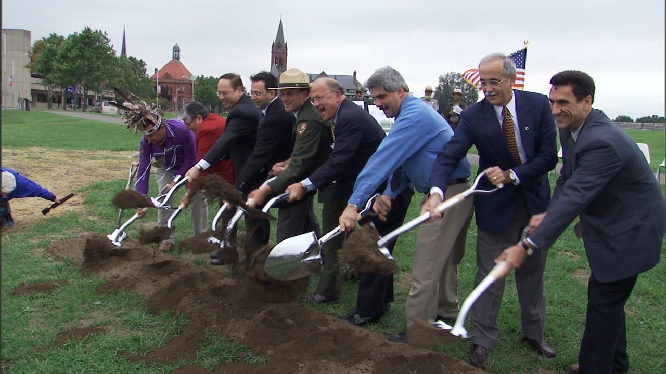 News Release Date:
September 22, 2003
Contact: Mike Caldwell
A groundbreaking ceremony for the Marinus Willett Collections Management and Education Center was held at Fort Stanwix National Monument on Monday, September 22, 2003. Congressman Sherwood Boehlert and several state and local officials participated in the ceremony. The Willett Center will provide visitor education and interpretation activities as well as museum collections space for over 400,000 museum artifacts. Construction preparation activities will start in October with actual ground construction to begin in Spring 2004 as weather and site conditions permit. The construction contract will be eighteen months. The opening of the Marinus Willett Center is scheduled for May 2005. Superintendent Caldwell stated that, "This project is very important to the National Park Service and we are very pleased to have reached this point. We have worked closely with many organizations to make this project happen and we are very appreciative of the continued support we have received from Congressman Boehlert." The Willett Center project represents a partnership between the National Park Service, the City of Rome, Oneida County, the State of New York and the Oneida Indian Nation. The project has received a total funding level of approximately $6.4 million. The new facility will be named after Marinus Willett who was second in command at Fort Stanwix in 1777 during the Revolutionary War.

Ground-breakers (left to right): Brian Patterson and Marilyn John, Oneida Indian Nation, Mayor John Mazzaferro, Oneida County Executive Joe Griffo, Michael Caldwell, Superintendent, Congressman Sherwood Boehlert, Councilor Joe Fusco, Mike Mularny, Deputy Central Region Director, New York State Parks, Robert Woods, Architect, Einhorn Yaffee Prescott.
Last updated: October 30, 2017