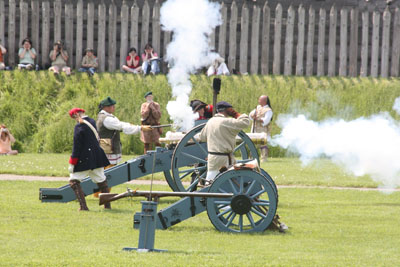 News Release Date:
August 12, 2009
Contact: BILL SAWYER, 315.338.7730
Rome, NY — Fort Stanwix will once again come under siege as Fort Stanwix National Monument presents "Futile Thunder" on Saturday, August 15, 2009, from 10 a.m. to 4 p.m.
"Futile Thunder" focuses on the role of the British artillery during the fort's 1777 siege and how the lack of heavy cannons directly influenced the British siege operations. Members of the Oneida Indian Nation's First Allies living history department will be on hand recreating the British artillery detachment that helped to besiege the fort. Cannon firing demonstrations, weather permitting, will be offered throughout the day.
"Futile Thunder" is one of the park's ongoing events commemorating the 232nd anniversary of the 21-day siege of the fort from August 3 to 23, 1777. The successful American defense of the fort is one of a series of events that led to the American victories at Saratoga, and the formal alliance in 1778 between the new United States of America and France against the British.
The mission of Fort Stanwix National Monument is to preserve the location and objects associated with the military, political, and cultural events that occurred at the site and to provide opportunities for visitor understanding and appreciation of these events. Fort Stanwix National Monument is significant because it commemorates the broader contest of nations for economic and political control of the rich resources within the Mohawk Valley region of New York State during the 18th century: in particular, the Siege of 1777, the stories of the combatants involved, and European-American Indian and United States-American Indian relations.
Fort Stanwix National Monument is open seven days a week from 9 a.m. to 5 p.m. Admission to the park, and to Oriskany Battlefield and Steuben Memorial State Historic Sites are free. Activities are ongoing unless noted. For more information about upcoming events please call the park at (315) 338-7730. Please visit the park's web page at www.nps.gov/fost for additional information about the park and up-to-date news about park events.
                                                           - NPS -