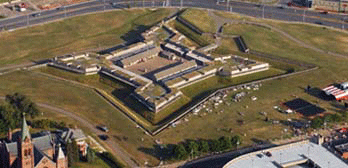 News Release Date:
November 3, 2007
Contact: Mike Kusch, 315-336-3126
Rome, NY:
Fort Stanwix National Monument received excellent marks for visitor satisfaction from park visitors.  The park also received high marks by visitors demonstrating understanding of the fort's national significance. The National Park Service, in partnership with the University of Idaho, conducted a survey during July 2007 asking visitors to grade the park's performance.  400 survey questionnaires were randomly distributed to visitors throughout the month; with 68 people responding. After visiting the site the visitors graded the park's performance, and mailed the survey in a self-addressed envelope to the university. During July people from throughout the United States and several foreign countries toured Fort Stanwix.  
The results: 99% of visitors were satisfied with their overall visit and the site's facilities; this up from 97% in 2006. And, 94% of these visitors demonstrated understanding of the fort's national significance.
Debbie Conway, Park Superintendent, stated, "We are very excited about these impressive results. The park's staff and volunteers, in partnership with the Oneida Indian Nation's Living History Department, are doing an excellent job and visitors are recognizing it." Conway continued, "the City of Rome should not only be proud of the service the park is providing, but also proud of itself since visitors often rate their entire experience, both inside and out of the park."
Other impressive results to take pride in include: 99% thought the Visitor Center and Exhibits were "Good" or "Very Good;" 96% found the Restrooms "Good" or "Very Good;" and 88% rated their visit as "Very Good." Only 1% rated their visit as "Poor," and no one rated their visit as "Very Poor."
"Everyone should be proud of these results," concluded Conway. "We are proving that working together Fort Stanwix and the City of Rome can compete with heritage tourism attractions anywhere else in the country. And, we are looking forward to building upon our successes with the City, the Oneida Indian Nation and our other partners in welcoming the new and repeat visitors who will be coming because their family and friends said this was a great place to visit."
Fort Stanwix National Monument is open seven days a week 9:00 a.m. to 5:00 p.m., except Thanksgiving, Christmas and New Year's Days. Admission to the Marinus Willett Center and Fort are free. Visitors are encouraged to start their experience at the Marinus Willett Center at the intersection of West Dominick and James Streets. A park ranger can assist you in planning your visit. For more information about upcoming events call the park at (315) 338-7730. Please visit the park's web page at www.nps.gov/fost for additional information.
                                                                   

- NPS -