Date:
October 7, 2010
Contact:
William Sawyer
, (315) 338-7730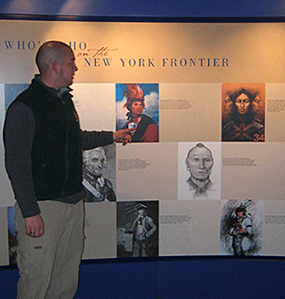 Rome, NY: Can you picture yourself as a member of the Continental Army helping people learn about life at Fort Stanwix in 1778?
Can you picture yourself maintaining the buildings and grounds of this reconstructed 18th century fort and its cannons?
Can you picture yourself meeting and greeting visitors from all over the world?
If you answered yes to any of these questions, then you should come to Fort Stanwix National Monument's Volunteer Recruiting Day on October 16, from 9 a.m. to 4 p.m. at the park's visitor center located at the intersection of James and Dominick Streets.
Park staff will be on hand to provide interested people with information on the many volunteer opportunities at the park. Park volunteers will also be on hand to share their experiences and to give the "volunteer viewpoint" to potential new recruits. Those interested in becoming volunteers will be able to sign up that day.
Fort Stanwix National Monument is open seven days a week from 9 a.m. to 5 p.m. Admission to the park is free. Activities are ongoing unless noted. For more information about upcoming events please call the park at (315) 338-7730. Please visit the park's web page at www.nps.gov/fost for additional information about the park and up-to-date news about park events.

                                                                               - NPS -