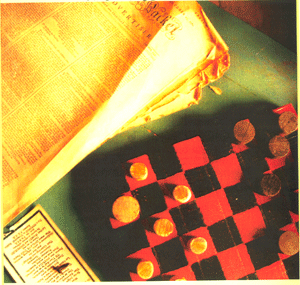 News Release Date:
July 6, 2007
Contact: Valerie Morgan, 315 338-7730
ValeneThis spring, several of the Rome City schools participated in a unique art project, and now the staff and volunteers at Fort Stanwix National Monument invite you to see the results. Visitors to the park will see ink and watercolor drawings, sculptures, and photos, and even "Pop Art" featuring various areas around the fort as well as the park's living history staff.
"We are very happy to be displaying the work of our local students, and art is such a wonderful means of interpreting everyday things," says Valerie Morgan, Park Ranger. "When we take a different look at the ordinary, it has the potential of becoming extraordinary, and that is what the National Park Service is about."
The project, created by Matthew Fidler from the Rome City School District and Michael Kusch from Fort Stanwix National Monument, began in Mid-April and brought close to 80 students from Rome Free Academy along with their teachers and several elementary teachers to the park. The artists then went back to their classrooms, and over the next month created nearly 100 pieces, now on display in the lobby of the Willett Center. In order to display all of the artwork at the Center, the projects will be rotated on a weekly basis throughout the month of July. They will then be displayed as a whole for Canalfest in early August.
Fort Stanwix National Monument is open seven days a week from 9:00 a.m. to 5:00 p.m. Admission to the park is free. Activities are ongoing unless noted. For more information about upcoming events please call the park at (315)338-7730. Please visit the park's web page at www.nps.gov/fost for additional information about the park and up-to-date news about park events.

                                           -NPS-