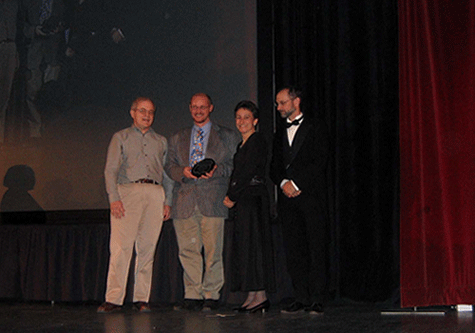 News Release Date:
November 17, 2006
Contact: Mike Kusch, 315-336-4448
The exhibits in the Marinus Willett Center at Fort Stanwix National Monument received special recognition at the annual National Association for Interpretation Workshop in Albuquerque, New Mexico on November 9th.  The National Park Service, Harpers Ferry Interpretive Design Center in West Virginia nominated the exhibits for the Media Award, Interior Exhibits competition.  Specialists from throughout the United States reviewed the center's exhibits and judged them to be excellent.  Before a crowd of national and international peers the Marinus Willett Center exhibits received 2nd Place overall; 1st Place went to the
Anza-Borrego Desert State Park Interpretive Exhibit
 in California, and tied for 3rd were
King's Mountain National Military Park
 in South Carolina and
Ripple Effect: Understanding Nature's Connections
, City of Petersburg, Florida.
"We are very proud to have received this national award," stated Mike Kusch the Chief of Interpretation and Resource Management at Fort Stanwix.  "To be recognized by the leading national experts in the field of interior exhibit design is truly an honor.  Many people from multiple park partners, organizations, universities and colleges worked countless hours to make our exhibits are reality."  Kusch continued, "A partial list of participants in this project include, but are not limited to: the staff members at Fort Stanwix National Monument, Saratoga, Boston, Independence and Colonial National Historical Parks, the National Park Service Northeast Regional Office and Denver Service and Harpers Ferry Interpretive Design Centers, Haley-Sharpe Design, Northern Light Productions, Color-Ad Inc., the City of Rome, teachers from the Rome City, New Hartford and Whitesboro School Districts, the Rome Historical Society, the Oneida County Historical Society, State of New York, New York State Historic Preservation Office, Oriskany Battlefield, Herkimer Home and Johnson Hall State Historic Sites, the Oneida Indian Nation, the Oneida Tribe of Indians of Wisconsin, the Haudenosaunee Council, the Sons and Daughters of the American Revolution, the United Empire Loyalists, professors from Dartmouth College, University of Richmond, the College of William and Mary, Southern Methodist University and Xavier University, local historians, the Canadian War Museum, the Museum of Applied Military History (Canada), and many others.  We should each be proud of our collective accomplishment."
The National Association for Interpretation is a professional not-for-profit organization based in Fort Collins, Colorado dedicated to advancing the profession of heritage interpretation and currently serves about 5,000 members in the United States, Canada, and over thirty other nations. Individual members include those who work at parks, museums, nature centers, zoos, botanical gardens, aquariums, commercial tour companies, and theme parks. Commercial and institutional members include those who provide services to the heritage interpretation industry.  Interpretation is a communication process that forges emotional and intellectual connections between the interests of the audience and the meanings inherent in the resource.
"Everyone in Rome and Oneida County should be proud of this accomplishment," concluded Kusch.  "We are attracting national and international attention to our successes in central New York and future heritage tourism by people from around the world."
Fort Stanwix National Monument is open seven days a week 9:00 a.m. to 5:00 p.m. , except Thanksgiving, Christmas and New Year's Days.  Admission to the Marinus Willett Center and Fort are free.  Visitors are encouraged to start their experience at the Marinus Willett Center at the intersection of West Dominick and James Streets.  A park ranger can assist you in planning your visit. For more information about upcoming events call the park at (315) 338-7730.  Please visit the park's web page at www.nps.gov/fost for additional information.
 
- NPS -