Date:
February 8, 2010
Contact:
Val Morgan
, 315-338-7730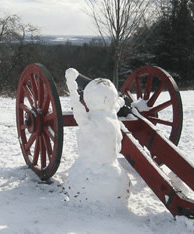 Rome, NY:The staff at Fort Stanwix is recruiting young patriots that want to make a difference in their bodies with some fun in the fresh air. What does that have to do with Fort Stanwix? Come learn about life in the Continental Army during a Central New York winter and find out. 

Join us on Wednesday, February 17 to make General Washington's snow army. The program will begin in the Marinus Willett Center with a short story about what winter was like for some of our first soldiers, and then move out onto the west lawn of the fort for snow soldier building. Participants should come prepared with snow pants, boots, mittens or gloves, a scarf, and a hat for the outdoor activity. The program will end in the Willett Center with an activity certain to warm even the hardiest souls.

In the event of very cold temperatures or lack of snow, there is an alternate indoor activity planned. Please call the park on the day of the program if you have questions about the location of the main activity. The program is free of charge, and will run from 1:00 p.m. to 2:00 p.m. in or around the Marinus Willett Center at the intersection of James St. and Erie Blvd. Children ages 5-12 are encouraged to participate with their families.

Fort Stanwix National Monument is open seven days a week from 9:00 a.m. to 5:00 p.m. Admission to the park is free. Activities are ongoing unless noted. For more information about upcoming events please call the park at (315) 338-7730. Please visit the park's web page at www.nps.gov/fost for additional information about the park and up-to-date news about park events. 
     - NPS -