Debbie Conway Named Superintendent of Fort Stanwix National Monument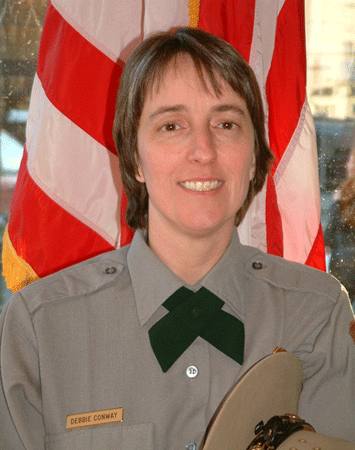 News Release Date:
February 8, 2007
Contact: Michael Kusch, 315-886-9015
Acting National Park Service (NPS) Northeast Regional Director Chrysandra Walter has announced the selection of Debbie Conway as Fort Stanwix National Monument superintendent. She succeeds acting superintendents Jeffrey Collins and Ken Mabery who guided the park in temporary assignments until a permanent placement was selected.
"We took a hard look to find a superintendent whose background and talents would be an ideal match for Fort Stanwix, its park partners, and the city of Rome." said Walter. "Debbie brings energy and experience that will be assets for the park and the community." She will assume her new position on April 9, 2007.
Since 2003, Conway has been superintendent of Klondike Gold Rush National Historical Park in Seattle, Washington, a park commemorating the 1897-98 stampede to the Yukon gold fields and Seattle's role in that international event. An urban park in the heart of downtown Seattle, Klondike is destination for nearly 70,000 visitors each year. Under her leadership, Klondike relocated in 2006 into a gold rush–era building, the Cadillac Hotel, with all new exhibits. This multi-faceted projected included the renovation of the earthquake damaged hotel, the design and development of a 1.2 million dollar visitor center project and a significant fund-raising effort involving numerous partners and community groups.
A 20 year National Park Service veteran and Ohio native, Conway graduated in 1988 with a BA in history and biology from Hiram College. She began her NPS career while still in college, working seasonal jobs at National Park sites in Ohio. Since then, she has served in a variety of park ranger and management positions in parks throughout the country including at Cuyahoga Valley National Park in Ohio, Chesapeake and Ohio Canal National Historical Park in Maryland, Colonial National Historical Park in Virginia, Santa Monica Mountains National Recreation Area in California, Yosemite National Park in California and Klondike Gold Rush National Historical Park in Washington.
Fort Stanwix National Monument, established in 1935, commemorates the Oneida Carrying Place and the American victory at the frontier fort that directly contributed to the British defeat at Saratoga in 1777; setting the stage for westward expansion through New York.
"I am looking forward to the opportunities this new position has to offer and to working with the park staff and community of Rome," says Ms. Conway. "I believe that having a National Park Service unit in the heart of a city is a real benefit to the park and the community. In Seattle, I worked hard to reconnect the neighborhood with the park and enhance the park's visibility, making it a draw to the neighborhood and local businesses. I hope I can do the same for Rome."
In her free time, Conway enjoys quilting. She and her husband, Robert, a NPS law enforcement park ranger, look forward to exploring the many hiking and antiquing opportunities of central New York. 
-NPS-
Last updated: February 26, 2015