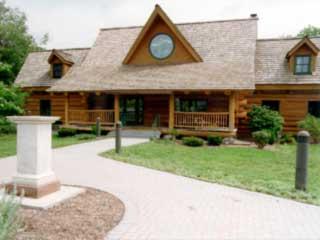 News Release Date:
July 1, 2012
Contact: Susan Jones, 315-338-7730
Learn about Oneida Indians from the viewpoint of the Oneida Indians. Join the staff from the Shako:wi Cultural Center and explore the culture and history of the Oneida Nation.You will hear about the sport of Lacrosse and its meaning to the Oneida people. Hear musical instruments of the Oneida Indian Nation demonstrated. Learn about the Nation through storytelling and activities. Make a cornhusk doll, and hear the legend behind the doll's design. Top your Oneida Nation experience off with a short Oneida language lesson and carry with you the Oneida words for turtle, wolf, and bear.

Join the fun! The Backyard Club meets on the third Saturday of each month. The next Backyard Club will be held August 18, 2012, from 10:00 am to 11:30 am and from 1:30 pm to 3:00 pm at the Fort Stanwix National Monument's Willett Center. Mark your calendars! For more information about The Backyard Club, please call Fort Stanwix National Monument at 315-338-7730 and speak with one of the rangers. All programs are free and no reservations are necessary.

Fort Stanwix National Monument is open seven days a week from 9:00 am to 5:00 pm. Admission to the park is free. Activities are ongoing unless noted. For more information about upcoming events please call the park at (315) 338-7730. Please visit the park's web page at www.nps.gov/fostfor additional information about the park and up-to-date news about park events.
- NPS -