Date:
January 17, 2009
Contact:
Valerie Morgan
Contact:
Kelly Cardwell, 315 338-7730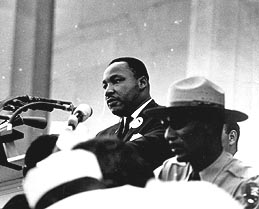 The theme for the 2009 "School's Out at the Fort" series at Fort Stanwix National Monument is "exploring the country from the comfort of Rome." This year students will have the opportunity to become Junior Rangers at several of our country's National Parks that commemorate the people and events that accompany a school break.

The first program of the year will be on Monday, January 19. Explore Atlanta and Martin Luther King, Jr. National Historic Site, and discover Dr. King and the dream he had for Civil Rights in the United States. Participants will be able to earn the Jr. Ranger patch from the site and take home their activity book at the end of the program.

The "Schools Out at the Fort" programs are all free of charge. They run from 1-2 pm in the Marinus Willett Center on N. James St. in Rome. Children ages 5-12 are encouraged to participate with their families.

Fort Stanwix National Monument is open seven days a week from 9:00 a.m. to 5:00 p.m. Admission to the park is free. Activities are ongoing unless noted. For more information about upcoming events please call the park at (315)338-7730. Please visit the park's web page at www.nps.gov/fost for additional information about the park and up-to-date news about park events.

                                                        -NPS-