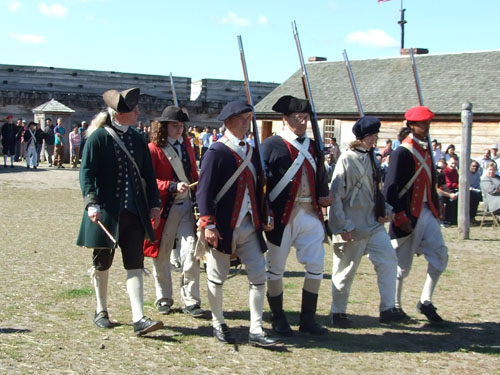 News Release Date:
June 25, 2012
Contact: Kelly Roman, 315-338-7730
Why not spend the Fourth of July at the fort, 18th Century style? Come hear the Declaration of Independence read as it was first publically heard in 1776 and cheer with loud "Huzzahs!" Children of all ages will be able to join the rebel army and learn the musket drill as so many did following that fateful day in July over two hundred years ago. Sign the Declaration of Independence as John Hancock did. Make a tri-corn hat and decorate it with "green boughs" as George Washington directed his troops to do on July 4th, 1778. See the "volley of Musquets" as was conducted by the Continental Army in 1782.
Across the country, July 4th activities have included baseball games, lawn games, and sidewalk art and this year's celebration at Fort Stanwix National Monument will not be outdone! Join in an 18th Century version of baseball at 2:00 pm, show your patriotic fervor by creating an artist's version of July 4th in chalk, and try your hand at games which have stood the test of time.
The day begins with a 9:00 am memorial service led by the Rome Rotary Club of New York at the Tomb of the Unknown Revolutionary War Soldiers at the intersection of Liberty and James Street. Readings of the Declaration of Independence will be conducted at Fort Stanwix National Monument at 11:00 am and 1:00 pm. Each reading will be followed by a historic weapons firing demonstration. Various children's activities will be ongoing and overlapping throughout the day. Please contact the park's Marinus Willett Center at 315-338-7730 for a complete listing of activities and times. Come and celebrate Independence Day the 18th Century way!
Fort Stanwix National Monument is open seven days a week from 9:00 a.m. to 5:00 p.m. Admission to the park is free. Activities are ongoing unless noted. For more information about upcoming events please call the park at (315) 338-7730. Please visit the park's web page at www.nps.gov/fost for additional information about the park and up-to-date news about park events.
- NPS -