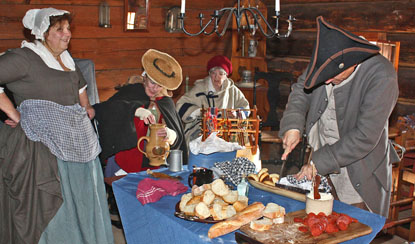 News Release Date:
November 14, 2011
Contact: Kelly Roman, (315) 338-7730
On Saturday, November 26th, from 6:30 p.m. to 8:30 p.m., the staff and volunteers at Fort Stanwix National Monument invite you to explore the winter through the eyes of a Mohawk Valley resident at the time of the American Revolution. Experience how people survived the harsh winter months at the fort, how the various cultural groups within the garrison and surrounding area marked the holiday season, and learn the origins of some of our favorite "American" holiday traditions.

During the event, the soldier's quarters will be illuminated by candle light and firelight. Colonial music will fill the air. All will have the opportunity to enter the soldier's quarters and talk with the park staff and volunteers in a relaxed atmosphere and experience the past. Everyone is welcome to bring family and friends, as well as visitors from out of town. In addition to this, exhibits inside the Marinus Willett Center at the corner of James and Dominick Streets will be open to the public and a children's exploration packet will be available.
Fort Stanwix National Monument is open seven days a week from 9:00 a.m. to 5:00 p.m. Admission to the park is free. Activities are ongoing unless noted. For more information about upcoming events please call the park at (315) 338-7730. Please visit the park's web page at www.nps.gov/fost for additional information about the park and up-to-date news
about park events. 
                                                       
                                          - NPS -