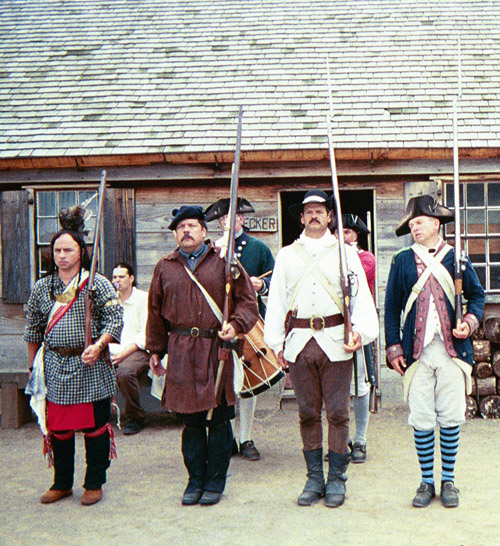 News Release Date:
October 30, 2009
Contact: Bill Sawyer, 315-338-7730
Rome, NY:
  For many us today fall is a time for harvest festivals and giving thanks for nature's bounty. This was not the case in upstate New York during the American Revolution. The grain-rich Mohawk, Schoharie and Cherry Valleys were a major source of food for the Continental Army, and harvest joys were mixed with the fear and terror because of British raids intent on destroying people's crops and homes.
During Fort Stanwix National Monument's Fall Revolutionary War Encampment  on November 7 and 8, visitors will have the opportunity to interact with the "British" forces that carried out these raids and the "Patriot" forces that defended the valleys. Park Ranger Bill Sawyer said that visitors may see an absence of traditional red coated British soldiers. "One of the terrible aspects of the fighting in this area is that it was American fighting American," Sawyer said. "Former friends, neighbors and family members were forced to choose sides, and were now destroying each other's homes and lives."
Visitors will have the opportunity to make a choice between "taking up arms" in support of the "Tory" (British) or "Rebel" (Patriot) forces. Additional activities will highlight the "daily grind" of being in a fort with guard duty, drill and courts martial on going each day. The encampment runs from 10 a.m. to 4:45 p.m. on Saturday, and 10 a.m. to 3 p.m. on Sunday.
Fort Stanwix National Monument is open seven days a week from 9 a.m. to 5 p.m. Admission to the park and Oriskany Battlefield and Steuben Memorial State Historic Sites are free. Activities are ongoing unless noted. For more information about upcoming events please call the park at (315) 338-7730. Please visit the park's web page at www.nps.gov/fost for additional information about the park and up-to-date news about park events.


                               - NPS -