Date:
April 16, 2010
Contact:
Susan Jones
, 315-338-7730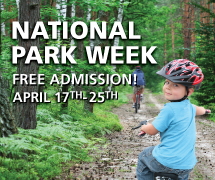 Rome, NY: Did you know that Fort Stanwix National Monument turns 75 years old in 2010? To celebrate this milestone, Fort Stanwix will host several events throughout 2010, starting with National Park Week April 18th to the 24th. Celebrate National Park Week at Fort Stanwix National Monument, and celebrate what we all have inherited as Americans — 84 million acres of the world's most spectacular scenery, historic landmarks and cultural treasures. Together we are owners of this land, and this National Park Week, the National Park Service and National Park Foundation invite you to pass along this tradition.

Throughout the week Fort Stanwix will be providing special programs for both children and adults in honor of the Park's 75th Anniversary and National Park Service Week:


Sunday, April 18th to Saturday, April 24th
10 to 11:30 a.m.
Share a Park, and Shape a Life
Children and their families are invited to join us on this special guided Junior Ranger program, beginning at the Willett Center and ending at the fort. Learn about the people, stories, and events that made Fort Stanwix important in the Mohawk Valley.

Sunday, April 18th to Saturday, April 24th
1:30 p.m. to 3:00 p.m.
The Birthday of a National Monument
Adults and interested children are welcome to join us for ranger-guided walks beginning at the Willett Center and ending at the Fort. These special programs will discuss the creation of Fort Stanwix as a National Monument and how it has developed as a National Park.
"We are excited about this coming year and celebrating the 75th birthday of Fort Stanwix National Monument and National Park Week," said Mike Kusch, Chief of Interpretation and Resource Management. "We earnestly wish to thank the people of Rome for their efforts and their patriotism to establish and keep an important National Park Service site within their community. We at Fort Stanwix National Monument are proud to serve the people of Rome and the people who visit the park from all over the United States and the world. Thank you very much."
Fort Stanwix National Monument is open seven days a week from 9 a.m. to 5 p.m. Admission to the park is free. Activities are ongoing unless noted. For more information about upcoming events please call the park at (315) 338-7730. Please visit the park's web page at www.nps.gov/fost for additional information about the park and up-to-date news about park events

                     Share a Park, and Shape a Life.
                                              - NPS -